This is giving us awful flashbacks.
Two years after a metallic-blue Ferrari California was abandoned during Toronto's summer floods, new footage of another kind of supercar driving through a flooded road is making car lovers cringe.
Someone left their $300,000 ferrari submerged in sewage water on lower simcoe if anyone's interested.. #TorontoFlood pic.twitter.com/DTLeubNP73

— Hira Ahmed (@TweetsByHira) July 9, 2013
Storms are lashing the San Diego area, and the driver of a white Lamborghini Gallardo decided to just drive right through a particularly massive puddle.
Three times, the car is partially submerged with water washing up to the windshield — but the motorist makes it through.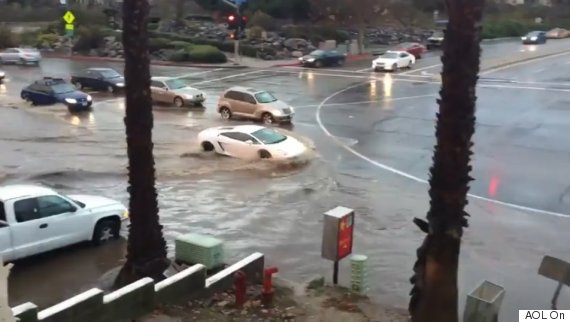 Let's hope taking that route was worth it — if the car breaks down, the driver could have a tough time finding another, as Lamborghini stopped making Gallardos in 2013.
You can watch the whole video above.
Also on HuffPost