Justine Smith and Francisco Peres hoped to enjoy a quiet night at their Montreal apartment after tying the knot on New Year's Eve (NYE).
But then they played unwitting hosts to a "coke-fueled orgy" after they rented out one of their rooms on Airbnb.
It has left them laughing off the experience, and it won't stop them from renting out in the future.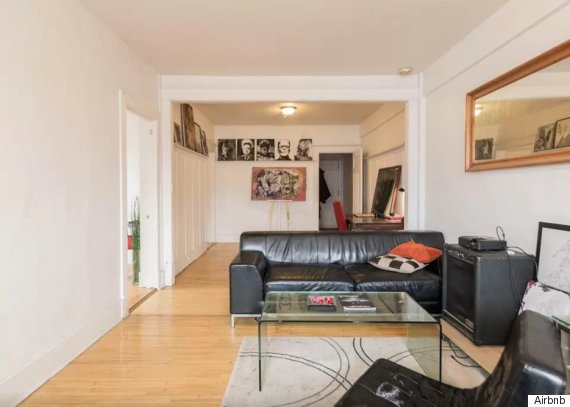 Justine Smith and Francisco Peres' Montreal apartment. (Photo: Airbnb)
Smith and Peres had already rented one room in their three-bedroom apartment when an Ottawa couple booked another one for NYE, BuzzFeed Canada reports. They didn't plan on renting that room, but they'd forgotten to turn off an Airbnb function that allows quick bookings.
"We called to cancel, but they [the guests] said, 'Please, don't. It's going to be impossible to find a new place,'" Smith told The Daily Beast
So they let them stay there on their wedding night.
My fav wedding photos pic.twitter.com/AXE54ZclRv

— Justine A. Smith (@redroomrantings) January 1, 2016
Smith, writing for Vice News, said they came back from their wedding at around 2:30 a.m. to find the apartment "overflowing with garbage" and no guests to be found.
They went to bed, only to hear their guests return late in the night. They heard the sound of people doing cocaine in the living room, but decided not to say anything.
Then, at approximately 5 a.m., they heard people in the living room having sex, CBC News reported.
Again, Smith decided to leave them alone: "They weren't very loud. They weren't screaming. Am I really going to get up at 5 a.m. and tell them to stop?"
But then she woke up later that morning ... only to find two people she didn't know, naked on their couch. And another stranger in the room they had rented to the Ottawa couple.
It turned out that things got a little out of hand when they came back to the apartment overnight.
Airbnb update: we had a guest in another room when they trashed the place, he said he walked out and there was a full on orgy going on

— Justine A. Smith (@redroomrantings) January 2, 2016
He got out of his room, and there were five people fucking in our living room. Worst part? I'm kinda insulted they didn't even invite us.

— Justine A. Smith (@redroomrantings) January 2, 2016
The couple, and their three unwanted guests, cleaned the apartment and moved all the furniture back into place.
They left the unit in good shape, save for a "cum-caked carpet" that had to be thrown out.
The guests left them a five-star review on Airbnb ... and this note.
Letter we got from our airbnb guests who had a coke-fuelled orgy in our living room on our wedding night pic.twitter.com/KvgvnrEzPj

— Justine A. Smith (@redroomrantings) January 2, 2016
Airbnb is compensating Smith and Peres for all the damages.
Though she was angry when it happened, Smith finds the whole episode hilarious now.
"Honestly, I think I'm lucky to have such a great story to tell about my wedding," Smith wrote.
Like Us On Facebook

Follow Us On Twitter

Also on HuffPost
Floating Airbnb House On River Thames