Three of fashion's most iconic supermodels just joined the Balmain army.
Claudia Schiffer, Cindy Crawford and Naomi Campbell, the original #squad of the modelling world, star in the French fashion house's spring/summer 2016 campaign, and honestly, it can only be described with one word: glorious.
Shot in black and white by Steven Klein in New York City, the German, American and British models don Balmain's quintessential tiered ruffles and sheer panelling in the form of a pants, jumpsuits and dresses for the stunning campaign shots. Sporting tousled hair and bronzed cheeks, the legendary models slay in the cleavage-baring, body-hugging designs and prove that they've still got it.
"This campaign is about what makes me love fashion, and these three women are exactly that," Olivier Rousteing, the young creative director of Balmain, tells Vogue in a phone interview. "These three women are what made me love fashion yesterday, make me love fashion today, and are going to make me love fashion in the future."
But Rousteing says, with this campaign, it won't be all about glitz and glamour of social media.
"It's a new chapter for Balmain," Rousteing tells Vogue. "Sometimes people are confused and think it's all about social media and Instagram. Balmain has a deep soul, and it's not only about followers. It's about dreams and love, and I think with this campaign I'm going to show that and go back to its roots."
"I felt like I was dreaming as I was watching the photo shoot, because I knew it was going to be something iconic that I would never forget," the French designer says. "You realize working with them, it's another way than working with the models of today. They know so much about themselves. Their career is so strong. They know their bodies so well. They move at the same time that the camera is moving. Steven also knows them so well, so it was such a good synergy."
Each model proudly shared with their thousands of followers shots from the campaign, with Schiffer writing in an Instagram caption that Rousteing is "the new star in the fashion world," and bringing a "new attitude to fashion" with his diverse vision.
She also says she "loved" being reunited with the girls:
We think it is safe to say that these runway queens just taught millennial models how. It's. Done.
Check out more campaign images below: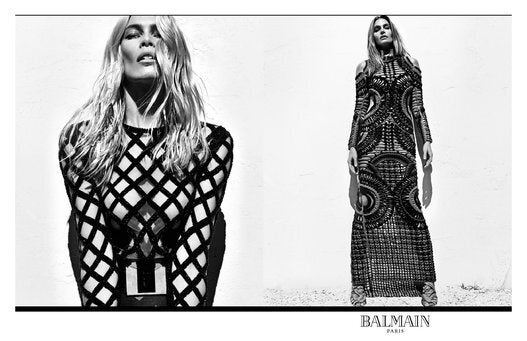 Balmain Spring/Summer 2016