Mayor John Tory says former Toronto police chief Bill Blair is the "ideal person" to oversee the Liberal government's plan to legalize marijuana.
Tory's comments on Friday come after sources told CBC News that Blair, who was elected as the MP for Scarborough Southwest in October's federal election, has been assigned to handle the pot file. Blair was named one of two parliamentary secretaries to the minister of justice last month.
Tory told reporters the former chief's "different experiences" would be an asset in developing the legalization plan.
"It's a very complicated matter," said Tory. "Exactly how do you change the law? How do you distribute marijuana? You know making sure that safety is kept at the forefront."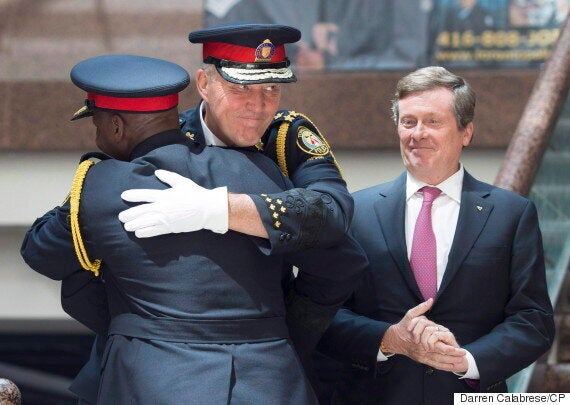 Bill Blair hugs new Toronto police chief Mark Saunders as Toronto Mayor John Tory looks on during Saunders' swearing-in. (Photo: Darren Calabrese/CP)
The president of the Ontario Association of Chiefs of Police also endorsed Blair in an interview with Metro Morning host Matt Galloway.
Jeff McGuire, who is also the Niagara police chief, said that he knows Blair very well and it "makes good sense" to have him on the file.
"We've got great respect for Bill and his career in law enforcement," said McGuire.
When he was Toronto's police chief, Blair seemed to support at least one call to legalize the drug. In October 2014, the Centre for Addictions and Mental Health (CAMH) came out in favour of legalization of marijuana, combined with strict regulation.
At the time, Blair told reporters that it wasn't up to police to make the law, but he was "very encouraged by the public health approach advocated by CAMH."
One of Prime Minister Justin Trudeau's earliest policy planks was a promise to legalize marijuana. The government has not yet indicated when, and how, it will strike possession of pot from the Criminal Code, but it's touting any plan as an improvement to the current framework that, it says, funnels money into the hands of criminals.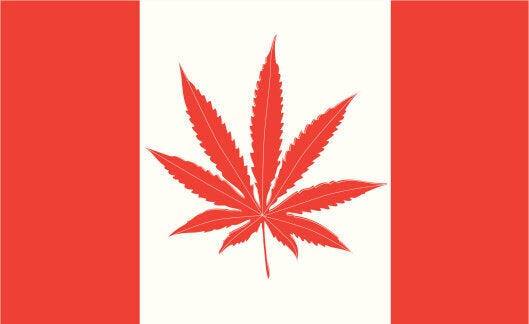 Which Province Smokes The Most Pot?