Season Wilwert's son Ethan wants to be a makeup artist one day, so for Christmas, he asked if he could have a lesson. The Florida mom then took the eight-year-old to a MAC cosmetic store, where expert makeup artist Joey Killmeyer gave him a memorable experience.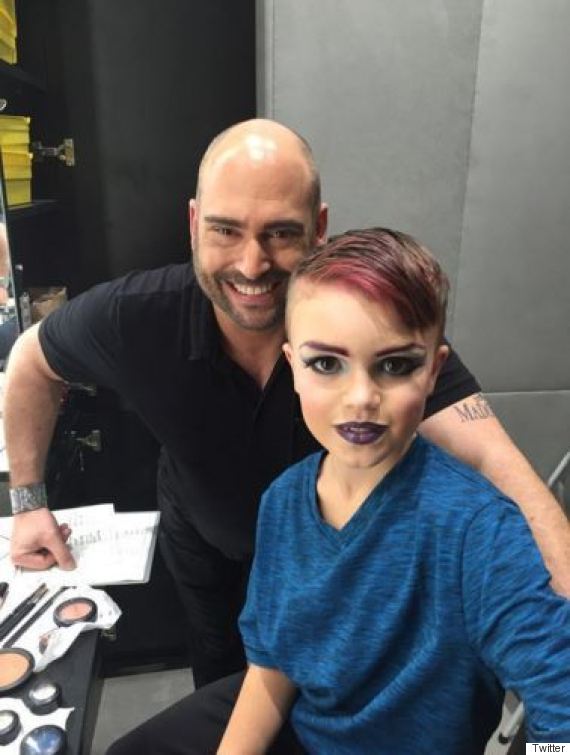 According to Killmeyer, he felt an "immediate connection" to the young boy. "He reminded me of myself at that age," he told The Huffington Post. "It touched my heart that I was able to help him learn what he wanted to know."
During the lesson, Killmeyer applied makeup to one side of Ethan's face, while Ethan did the other. The results were impressive!
In a Facebook post, Killmeyer wrote about how touched he was to see Ethan's mother show support for who her son truly is. "It shows me the world is changing from when I was his age and that there is hope for kids who are different," he said.
In the comments, users were quick to applaud both Ethan and his mom. "We should all feel lucky that an 8 year has passion. For something he wants to LEARN. This could be a fun phase for him," one wrote.
Another said, "Mom is doing it right! So good to see this kind of support."
Ethan has always wanted to learn drag makeup and is a huge fan of Jeffree Starr's YouTube tutorials, his mother said.
"He is a very artistic child and loves to express himself creatively, whether through drawing, gymnastics, or performing arts," Wilwert told Buzzfeed. "This is just another form of that expression."
Following the makeup lesson, the mom admitted she couldn't remember the last time she saw her son so happy or confident in himself. Wilwert hopes her son's experience will inspire other parents to encourage their kids' interests, no matter what they may be.
"Children need to be loved unconditionally, nurtured and encouraged to discover themselves through their true talents and passions," she told The Huffington Post. "By doing so, and receiving the necessary support from parents, they are building confidence and security in who they are. We as parents should be our child's biggest cheerleader."
Wilwert then went on to clarify that her son's interests in drag makeup "does not define his gender identity nor his sexual preference."
"He's just exploring and being a kid!" she said.
ALSO ON HUFFPOST:
9 Ways Parents Can Combat Gender Stereotypes