The most popular premier in Canada has explicitly ruled out a run for the federal Conservative leadership.
Saskatchewan's Brad Wall, dubbed the last conservative provincial leader left in Canada, firmly closed the door while on SiriusXM radio's "Everything is Political" Thursday.
Though Wall's conversation with David Akin focused mostly on TransCanada's plan to sue the U.S. government over its rejection of the Keystone XL pipeline, he was also asked about his rumoured federal ambitions.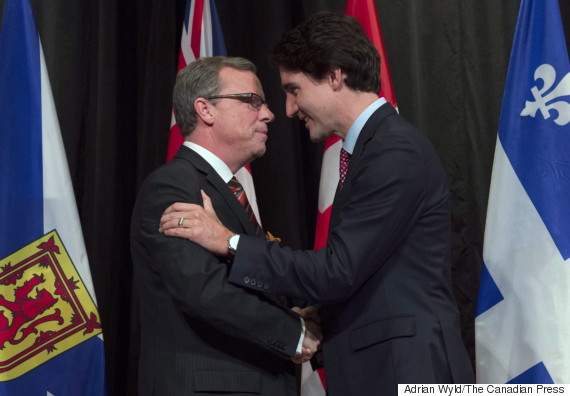 Prime Minister Justin Trudeau greet Saskatchewan Premier Brad Wall as he arrives at the First Ministers meeting in Ottawa. (Photo: Adrian Wyld/CP)
"I think Johnny Cash said that lies have to be covered up, but the truth can run around naked," Wall said. "So here's the naked truth: I am not running for federal politics. Period. I've said that several times."
Though he added it was an honour to be thought of in such a light, Wall said he already has the "best job in Canada" and will be "re-applying" this April when Saskatchewan voters head to the polls.
"People should be asking federal leaders, actually, 'Hey why don't you want to be premier of Saskatchewan?' Because I think this is the best job going," he said.
Listen to his full interview:
Wall said much the same to the Regina Leader-Post in a story that ran on New Year's Eve — though he would not guarantee he would stick around for the full four-year term if he wins again this spring.
The premier also denied a report that he was taking French lessons.
A December poll from the Angus Reid Institute, which surveys provincial leaders' job approval ratings each quarter, pegged Wall's support at 60 per cent, down three points from September.
In December 2011, the firm had Wall at an astounding 71 per cent approval rating.
"People should be asking federal leaders, actually, 'Hey why don't you want to be premier of Saskatchewan?' Because I think this is the best job going."
But a poll from Abacus Data on potential Conservative leadership contestants, also released in December, showed Wall would have some work to do to win the top Tory job.
Abacus put Wall in the "top tier" of potential candidates with former cabinet minister Peter MacKay, veteran Alberta MP Jason Kenney, Ontario MP Lisa Raitt, and former Quebec premier Jean Charest (who has also ruled out a run).
But while Abacus put Wall at 26 per cent support in the Prairies, he was at nine per cent support across Canada. MacKay, meanwhile, garnered 31 per cent support nationwide.
That online poll was conducted among 1,500 Canadians between Nov. 23 and 25. The margin of error for a comparable survey is 2.6 percentage points, 19 times out of 20.
Called out Trudeau
Wall sparked headlines in November with an open letter to Prime Minister Justin Trudeau, urging him to "re-evaluate" his pledge to welcome 25,000 Syrian refugees by the end of the year.
In light of the attacks in Paris, the premier asked Trudeau to halt the plan in the interests of security.
Wall also broke from some premiers at Paris climate talks in December by saying leaders should keep the energy sector in mind.
"My number 1 responsibility is back to the people of Saskatchewan and not necessarily worrying what the other kids in class think about me," he said at the time.
With a file from The Canadian Press
ALSO ON HUFFPOST: