With a hand-sculpted dragon over its fireplace, a tunnel to the bath house (yes, the bath house) and mural-covered ceilings — this $7.5-million estate is unlike anything you've ever seen before.
The Parkland County home located just west of Edmonton, is designed by owner developer Donald McCargar. He said it was his intention to build something with a lasting legacy.
"I've always worked as a builder, a carpenter. I get bored of building boxes," McCargar told CBC News.
This 13,300 sq. ft. house is certainly more than just a box.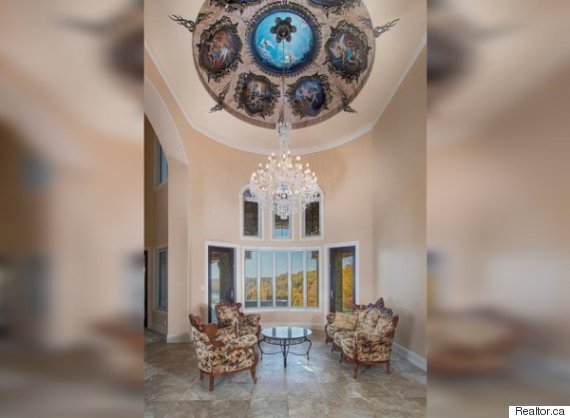 The five-bedroom, six-bathroom house boasts herringbone marble tile inlays and a Turkish walkway.
And its intricate ceiling murals and dragon sculpture were hand-built on site by Iranian artist Roxana Rastegar, according to the Edmonton Sun.
To top that off, its six-car garage features a car wash. There's a sauna and wet bar, too.
Also, nothing is a better fit for Edmonton's weather like travelling through a tunnel rather than venturing outside.
"I don't think you'd find another one like this in Edmonton," McCargar told CTV news.
He's probably right.
Click through to see more photos from inside the house:
$7.5 Million Parkland County Home



Like Us On Facebook

Follow Us On Twitter

Also on HuffPost:
Dream Homes In The Rockies (November 2015)