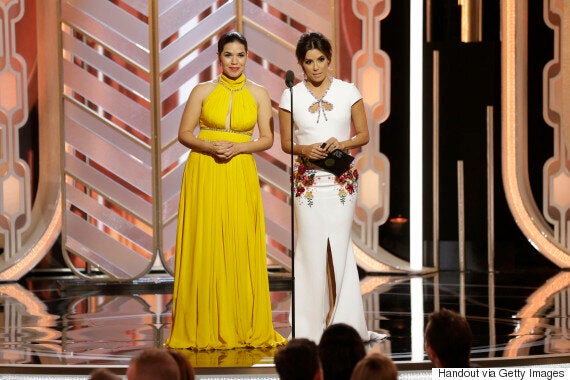 The actress on your left is America Ferrera, best known for role on "Ugly Betty". And next to her is Eva Longoria, one of the stars from "Desperate Housewives".
But if you've ever mistaken them for each other — or for any other Latina actress in Hollywood — the two have a message for you in the video above.
The duo were presenting the award for "Best Actor in a TV Drama" at Sunday night's Golden Globes and decided to educate everyone in the room that Latina actresses are not interchangeable.
The jab at the Golden Globes dates back to last December when the Hollywood Foreign Press Association wrongly identified Ferrera as Golden Globe winner Gina Rodriguez in a tweet announcing the show's presenters — twice.
"I didn't hear anything until recently someone sent me an article, but who cares?" Rodriguez told the publication. "America's lovely," she added. "She's so beautiful and such a fantastic actress. If there's anybody I want to get mixed up with — it's her, for sure!"
Funny, beautiful and now we can add witty to Ferrera and Longoria's list.