There are several Canadian connections to Sunday's Golden Globes ceremony, many of which revolve around Room, a best-selling novel adapted for the big screen.
The book is the brainchild of London, Ont.-based Irish-Canadian Emma Donoghue, who adapted it into a film screenplay — scoring her a Golden Globes nod for best screenplay.
Donoghue is up against much more experienced Hollywood names. The other nominees are:
- Aaron Sorkin for Steve Jobs
- Tom McCarthy and Josh Singer for Spotlight
- Adam McKay and Charles Randolph for The Big Short
- Quentin Tarantino for The Hateful Eight  
Despite those Hollywood heavy hitters, Donoghue told CBC News on Sunday that she was not overwhelmed.
"This is a delightful novelty for me."
"This is a delightful novelty for me. My usual daily life is pounding away on my 'treadmill' desk, writing my books, all alone, wearing sweatpants so this is just a delightful contrast with that," she said during an interview with CBC News Network.
"But I would never mistake it for my real life."
Best actress, best film nods
The film is also up for two other high-profile nominations: star Brie Larson earned a nod for best actress in a drama film, while the movie itself is up for the coveted best dramatic film trophy.
The book was released in 2010, but Donoghue says she always envisioned it as a film, writing a first attempt at the screenplay before the book was even published.
"I know this is going to sound a bit cocky, but the minute I'd written it I thought I could see this story working on screen too because I could imagine audiences being gripped by the story of a child in danger."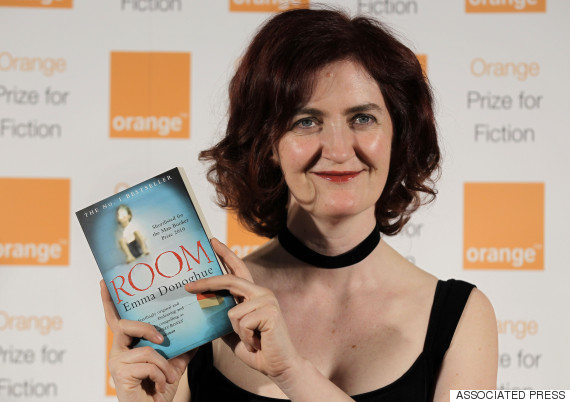 Author Emma Donoghue poses with her book 'Room' before the announcement of the 2011 Orange Prize for Fiction, during the awards ceremony at the Royal Festival Hall in London, on June 8, 2011. (AP Photo)
The film was shot in Toronto and stars Canadian actors, including B.C. child actor Jacob Tremblay. While authors sometimes struggle coming to terms with the film adaptation of their books, Donoghue says the entire process was a pleasure.
"I haven't had any of those moments of feeling alienated, you know, or as if the story has been spoiled, not a bit. I think [director Lenny Abrahamson] has made such a beautiful film and one that Canada and Ireland can both be really proud of."
"I think it's absolutely wonderful that this film is getting so much attention because it gives us a lot of chances to say this is about parent-child love."
With the success of her debut screenplay, Donoghue says she plans to continue writing for both film and television.
"It's great fun to have a new string to your bow in your forties when you've been writing away since your twenties." 
Also on HuffPost