HALIFAX — The federal finance minister says the Canadian economy is suffering from slower growth than originally projected by the former Conservative government.
Bill Morneau told several hundred people attending a Halifax Chamber of Commerce luncheon that his department's projections on growth since the 2015 budget have fallen due to oil prices that are less than half those of 2014.
But he didn't indicate if that will mean the federal deficit will be higher than the Liberals promised during the latest election campaign.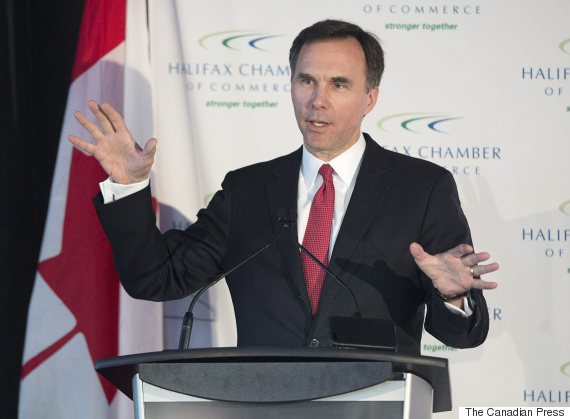 Finance Minister Bill Morneau addresses the Chamber of Commerce in Halifax. (Photo:CP)
Prime Minister Justin Trudeau promised during the campaign to run annual deficits of no more than $10 billion over the next two years while pumping billions into infrastructure projects to stimulate the stagnant economy.
The finance minister didn't provide specific figures on how the struggling economy will affect this promise, but dropped some hints that it is affecting budget plans.
"We knew when we were campaigning we were facing a slow-growth environment," he said.
"The challenge is greater than we expected."
The minister said there's hope that oil prices will improve, but as it stands a decreasing tax base means his department is expecting a $15 billion per year reduction of GDP beginning this year, compared with what was projected in the last budget.
"That's a starting point and it's important to have a frank view of where we're starting from," he said.
Morneau is travelling across the country this week to seek input as he draws up his first federal budget.
Also on HuffPost