TORONTO — The rapidly falling price of oil dragged down Toronto's stock market on Monday amid lingering worries for the country's economic outlook this year.
The S&P/TSX composite index, which has lost nearly eight per cent of its value since Christmas Eve, was down again for its ninth consecutive day. The S&P/TSX composite index lost 126.20 points, closing at 12,319.25.
The TSX has lost nearly 8 per cent of its value since Christmas Eve.
The Canadian dollar, which has been on a steep slide since the start of the year, fell 0.37 of a U.S. cent to 70.31 cents US. The last time the loonie settled below the 70-cent U.S. mark was on April 30, 2003, when it closed at 69.76 cents U.S.
The slump in China and its knock-on effects on commodity prices, especially oil, continued to drive down both the dollar and the TSX.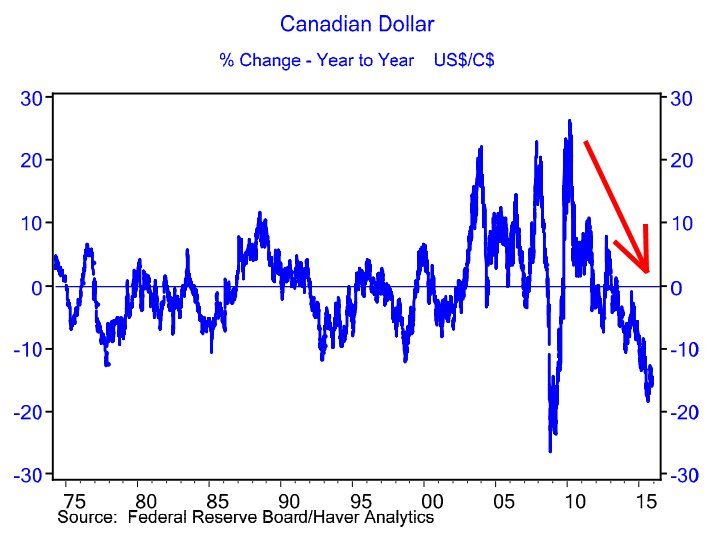 The Canadian dollar has been on a long-term downward trend for years, but oil prices have accelerated that trend. (Chart: BMO)
"We're seeing a continuation of the weakness that started the year,'' said Craig Fehr, Canadian market strategist at Edward Jones in St. Louis.
"The key drivers are pretty much the same. We're seeing further concerns about growth in China. ... That's leading to further declines in oil prices, and that obviously is having an impact on the domestic market as well as global markets as a whole.''
Chinese markets endured big drops last week, roiling markets worldwide, before rebounding Friday. But the Shanghai composite, China's main index, plunged again Monday, falling 6.3 per cent.
There was more grim news Monday from the Bank of Canada, which released a survey that concluded that the hiring and investment intentions of companies have dropped to their lowest levels since 2009. The central bank said the fallout from falling commodity prices was extending beyond resource-regions.
The February contract for benchmark crude oil fell $1.71 to US$31.45 a barrel, while February natural gas lost seven cents to US$2.40 per mmBtu.
Western Canada Select, the oil product exported from the oilsands, trades at a discount to global oil prices and has been trading below US$19 in recent days.
— The Canadian Press, with files from The Huffington Post Canada