David Ramos via Getty Images
After facing yet another controversy about its practice of "surge pricing," which saw some riders pay hundreds for a New Year's Eve ride home, Uber has announced it will be lowering prices in more than 100 U.S. and Canadian cities.
UberX riders in Ottawa, Hamilton, Kitchener-Waterloo and Quebec City can expect to see lower prices this year, an Uber spokesperson told HuffPost Canada.
Some of Uber's larger markets in Canada, such as Toronto and Montreal, will not see any price cuts.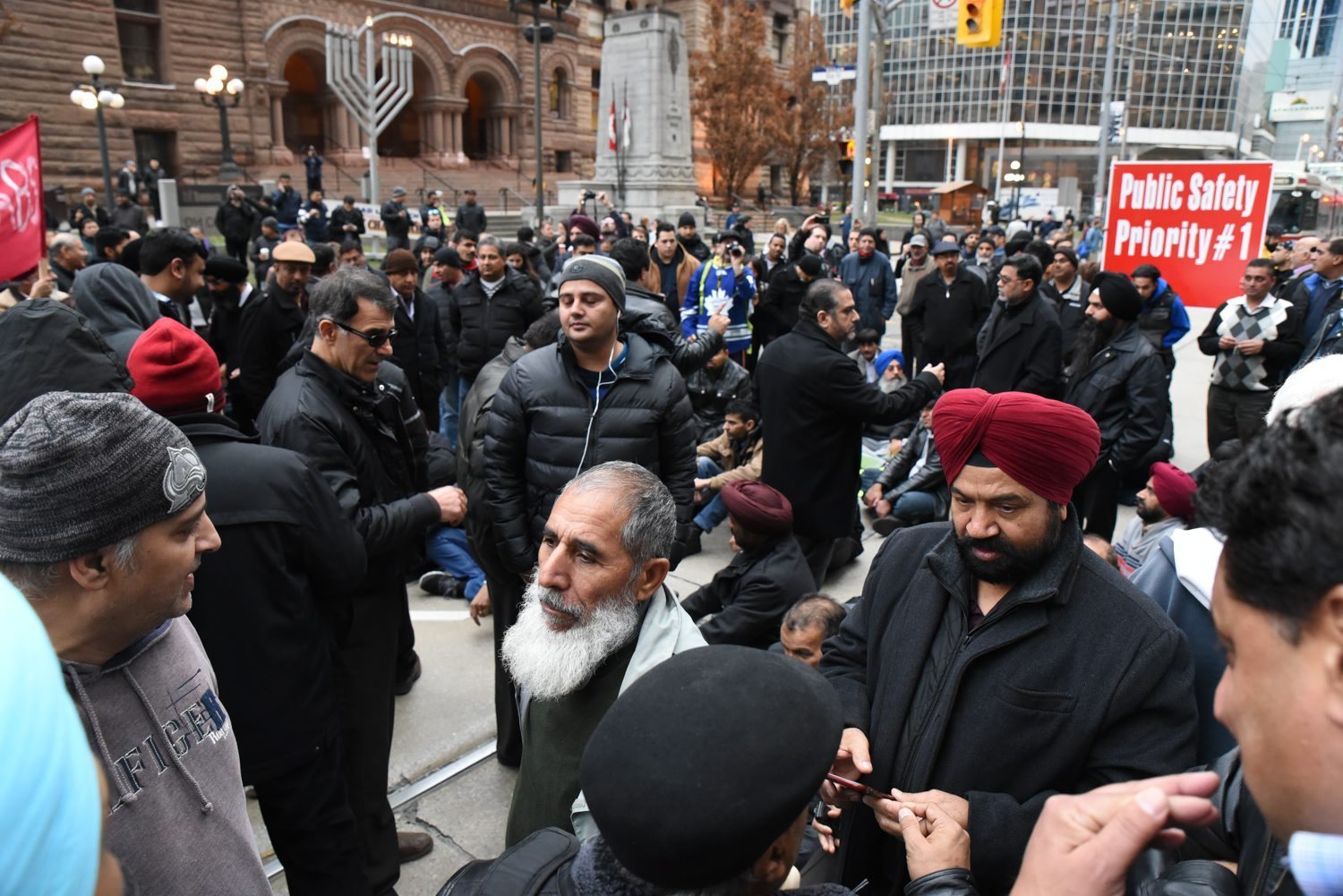 Taxi drivers protest against Uber in front of Toronto City Hall, causing traffic standstills, Dec. 9, 2015. (Canadian Press photo)
The ride service hasn't specified the size of the price cuts, noting on its blog that pricing "is a science" and "every city is different."
But according to Recode, prices in the San Francisco Bay Area will drop by 10 per cent to 20 per cent for UberX, and by up to 40 per cent for the premium UberXL service.
Uber has expanded to include some 40 communities in Ontario, including Greater Toronto as well as Hamilton, Kingston, the Niagara region, Ottawa and Windsor.
Outside of Ontario, it operates in Edmonton, Halifax, Montreal (including Longueuil and Laval) and Quebec City.
The company says on its blog it's cutting prices because of a "winter slump" in ridership. It has started off previous years with price cuts, and for some cities, this will be third year in a row prices have been lowered, Uber says.
But the company says the lower prices only make sense if ridership picks up as it hopes.
"If drivers aren't busier, prices will go back up again," the Uber blog states.
In Charlotte, N.C., lat year, the company scaled back a 40-per-cent price cut to 29 per cent, "and earnings for drivers grew by nearly 20 percent in 2015."
In Seattle last year the company rolled back its price cut entirely "when it became obvious that prices were already low enough."
UberPool Could Take 'Thousands Of Cars Off The Roads'
Uber has also announced its UberPool carpooling service will launch in Toronto this week.
The service allows multiple Uber users to share cars when they are travelling in the same direction at the same time.
The new service costs 30 per cent less than the regular UberX ride service, and the lower price will apply even if you ride alone, the company says.
We're thrilled to announce #uberPOOL is coming to Toronto this Wednesday! Get ready: https://t.co/D9DVdf1h64 pic.twitter.com/anMcOQAic6

— Uber Canada (@Uber_Canada) January 11, 2016
Uber Canada's general manager, Ian Black, told the Toronto Star last year the company felt the city was "perfect" for the UberPool service, mainly because of its heavy traffic congestion.
"At full adoption, it can take hundreds of thousands of cars off the road," Black said.