KINGSTON, Ont. — Vandals in Kingston, Ont., have slashed the tires and poured red paint on a car belong to the main organizer of a birthday tribute to Sir John A. Macdonald.
Arthur Milnes, a local historian, journalist and speechwriter, says he awoke early Monday morning to find the damage outside his home, including a burned Canadian flag left under his car.
The vehicle of local Liberal member of Parliament, Mark Gerretsen, was also targeted overnight, on the eve of Monday's midday event in downtown Kingston to commemorate the birth of Canada's first prime minister.
Former Ontario premier Dalton McGuinty was among the dignitaries who spoke at the ceremony, which was also shadowed by a group of about two dozen protesters, there to express their objections to Macdonald's 19th century policies toward indigenous peoples.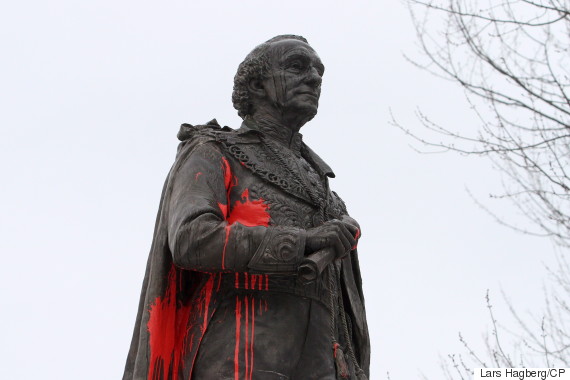 Red paint was splashed on the statue of Sir John A. MacDonald in 2013. (Photo: CP)
In the past, vandals have splashed red paint on a downtown Macdonald statue and on local historical plaques commemorating the Scots-born Father of Confederation, who called Kingston home.
A spokesman for the Kingston Police Force said it is investigating two incidents, one reported late Sunday night and the other early Monday morning.
"We believe both to have occurred overnight and (police are) potentially looking at the same suspects, just due to the MO that was used and of course the fact that it's coming about the same day as Sir John A's birthday anniversary," said Const. Steve Coopman.
"We've had incidents like this in the past — more in relation to the statue and specifically the red paint. So very likely it's connected in relation to (the anniversary). We won't discount anything, though, in relation to motive and potential for suspects."
"I think old John A — the guy who wrote the Canadian Constitution in his own hand — would have appreciated the event."
Milnes, a former journalist who has worked for two Conservative prime ministers — most recently as a speech writer for Stephen Harper — said he and his wife were deeply shaken by the vandalism at his home address, which is not publicly listed.
"I'm from the press, I've spent my whole career as an adult in the battlefield of ideas," Milnes said in a telephone interview. "I write letters, I write columns, people call me an idiot, whatever. But the idea that somebody had to seek out my house?"
Gerretsen did not immediately respond to a request for comment.
Milnes noted that Monday's ceremony itself was peacefully protested and everyone behaved respectfully.
"I think old John A — the guy who wrote the Canadian Constitution in his own hand — would have appreciated the event," he said.
Macdonald backed residential schools
Last year's 200th anniversary of Macdonald's birth and the looming 150th anniversary of Confederation in 2017, sparked renewed interest and research into Macdonald's deeply controversial dealings with indigenous peoples.
He was an early proponent of the church-run, government-funded residential schools system that is now recognized as a form of cultural genocide and one of the darkest episodes in Canada's history, as detailed in recent months by the Truth and Reconciliation Commission.
Milnes said he has no idea who committed the vandalism, noting that Gerretsen, as a newly elected Liberal MP, is "incredibly sympathetic to all aboriginal concerns."
Notwithstanding Macdonald speeches and policies that today are deemed deeply offensive, Milnes noted that in his day Macdonald was often criticized as being too progressive in his aboriginal policies.
Heritage Minister Melanie Joly issued a statement celebrating Macdonald's founding role.
"As we prepare to mark the 150th anniversary of Confederation in 2017, let us consider the immense influence Sir John A. Macdonald had on the founding of our country. I encourage you to learn more about his life and his vision for a country that values diversity, democracy and freedom."
'Far from perfect'
Rona Ambrose, the interim leader of the Conservative party, also praised Macdonald.
"With skill and political force he brought together French and English, Catholic and Protestant, extended the vote to aboriginal Canadians and fought for women's voting rights," Ambrose said in a release.
Happy Birthday, Sir John! https://t.co/D4dRPktc43

— Rona Ambrose (@RonaAmbrose) January 11, 2016
"While far from perfect, Sir John A., the founder of our party, further united Canadians with the Canadian Pacific Railway and lived to see a transcontinental Canada that extended his inclusive vision for Canada from coast-to-coast."
Also on HuffPost
Sir John A. MacDonald Statue Defaced