ST. JOHN'S, N.L. — Newfoundland and Labrador's premier says his province is facing the risk of a credit downgrade if his government doesn't make hard choices to control a ballooning budget deficit. Dwight Ball announced today he'll hold pre-budget consultations to discuss the province's projected $1.96 billion deficit for 2015-16, which is 79 per cent higher than the original budget prediction.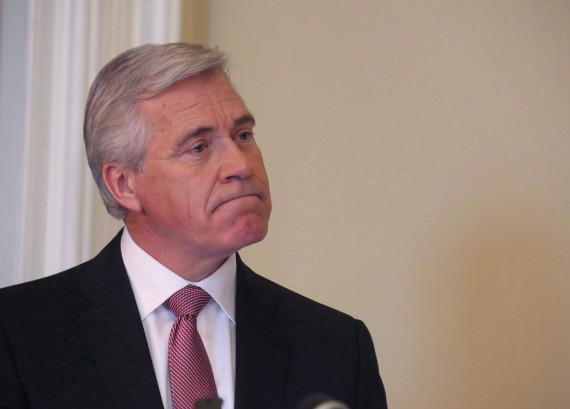 Newfoundland and Labrador Premier Dwight Ball on Dec. 14, 2015. (Paul Daly/CP)
The province also says it's expecting less than half the $1.2 billion in royalties from oil and gas originally projected due to falling prices and production. Ball said during a news conference the province is concerned that if it doesn't reduce the deficit that debt servicing costs will grow due to downgraded credit ratings. The premier said the province's credit rating is likely to go before a series of credit rating agencies soon and they will be looking for a plan to control the deficit. He says attrition will be the "preferred means" of reducing public sector payroll costs, and his government will listen to other suggestions from the public for ways to raise revenues and cut costs during open meetings that begin next Monday.
Also on HuffPost