LAVAL, Que. — P.K. Subban's parents weren't impressed with his profanity-laced comments after the Montreal Canadiens' latest defeat. "I got in a lot of trouble," the Canadiens star defenceman said with a smile. "My parents weren't too happy about that, so they gave me a little slap on the wrist." "But sometimes that's the way it is. It's just frustration. Usually I do a good job of controlling that but I guess it sort of boiled over. When you see guys like (Sidney) Crosby and (Evgeni) Malkin out there dancing around and having their own way, it's a little frustrating." All the Canadiens were on best behaviour Monday as they inaugurated a new outdoor rink built by the Montreal Canadiens Foundation in suburban Laval, Que., by skating with kids from nearby school, before holding a short practice.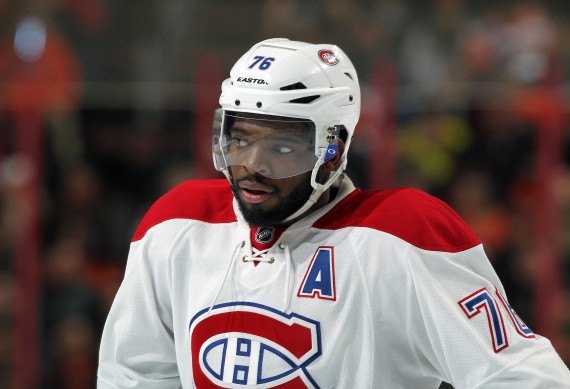 P.K. Subban looks on against the Philadelphia Flyers on January 5, 2016. (Photo: Getty Images)
After their 3-1 loss on home ice to the Pittsburgh Penguins on Saturday night, Subban lost his composure when asked about scoring his first goal in 34 games. To paraphrase, he said a goal didn't matter if the team didn't win. "The only thing I hope is that no little kids saw or heard what I said," he added. Perhaps more alarming was Subban saying it's not his job to score goals. He may not be expected to fill the net, but at an average of US$9 million per year over eight years and leading the team in ice time, the Canadiens may hope for more than two in 43 games. He said he meant he was not the only player whose job is to score.
"It's important for people to know that all I care about is winning."
"As a group it's our job to create offence." he said. "I couldn't care less if I score the goal or if I set it up. It doesn't matter to me. "People are going to look at numbers and stats and I expect that. When you're the highest paid player on the team and one of the highest paid players in the league people are going to do that. That's fine with me. But it's important for people to know that all I care about is winning." Swear words have crept more and more into Canadiens comments as the team that started the season with a team-record nine straight wins endures a funk that has produced only five wins in their last 18 games in the absence of injured goalie Carey Price. Some were shocked when captain Max Pacioretty blurted out some foul language after a loss last week. The grief he took for that from fans and media was likely what caused him to cast a wary glance when Subban launched into his tirade.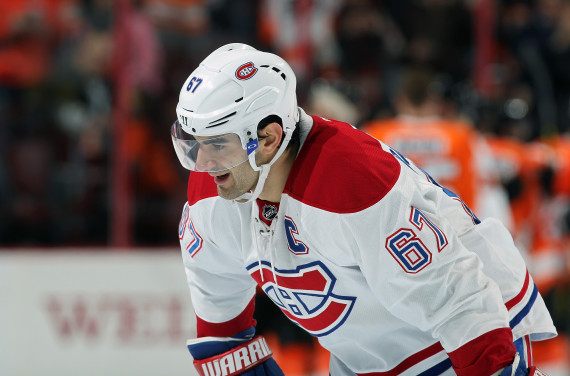 Max Pacioretty #67 of the Montreal Canadiens reflects following a 4-3 loss against the Philadelphia Flyers. (Photo: Getty Images)
Pacioretty scoffed at speculation that was a sign of bad blood between two of the team's top players. "Today's about a good cause and to try to spoil that over a non-story is just a shame," he said. Indeed, it was a day for putting on-ice troubles aside to have some laughs with the kids. The rink at Emile Park in Laval is the seventh outdoor sheet built by the club since 2008. The refrigerated rinks cost more than $1.4 million apiece and the team also supplies skates, sticks and helmets to encourage kids to get into hockey. Another Bleu-Blanc-Rouge rink is to be built next year in Sherbrooke, Que.
"It makes perfect sense to me to see a player that's angry when you don't win."
"We're proud of it and we'll build more in the future," said team owner and president Geoff Molson, who was not put a out at all by Subban's swearing. "I think that's probably passion speaking; someone who wants to get out of some of the issues we're having. It makes perfect sense to me to see a player that's angry when you don't win."
Also on HuffPost