The Canadian dollar has been wavering in the low 70s for months compared to the U.S. dollar, but that isn't stopping Canadians who head to the United States on an annual basis, from doing so this year.
"In comparison to the typical or traditional travel market …. the snowbird travel market is definitely more resilient than that," said Evan Rachkovsky, spokesperson with the Canadian Snowbird Association.
"It's definitely more of a lifestyle as opposed to a two week or a month vacation."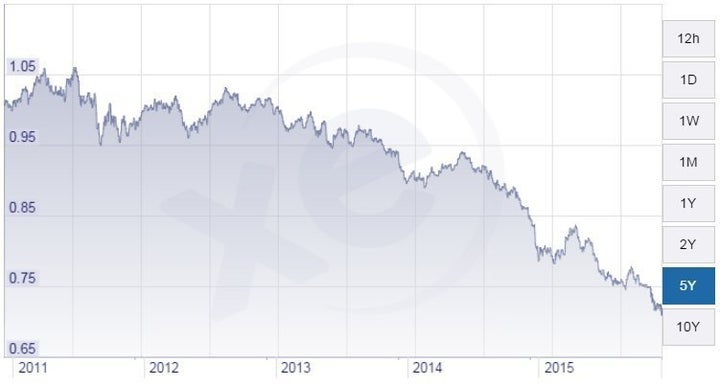 The Canadian dollar has been sliding since 2011. (Chart: Xe.com)
Here are a few tips for snowbirds who want to continue their annual migration.
1. Use a currency exchange program
These programs buy currency in bulk, which gives its members a better exchange rate. Members of the Canadian Snowbird Association can use its currency exchange program. In the month of January 2016, snowbirds can save up to two cents for every U.S. dollar they buy if they use the program, says Rachkovsky.
2. Find local deals in the U.S. for Canadians
Some businesses in the U.S. rely on snowbirds to boost sales. Canadians spent $6 billion in Florida in 2013, according to Rachkovsky. He says some American service providers, like Florida hotels, are offering discounts for Canadian travellers.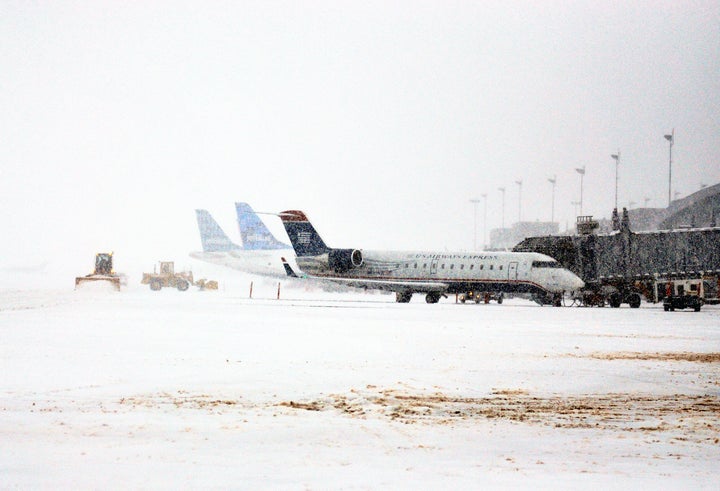 Buffalo International Airport in Buffalo, N.Y., is a popular choice for Ontarians looking to avoid Pearson Airport's high prices. (Getty Images)
3. Fly domestically in the U.S.
Some Canadians take a bus or train to Seattle first before boarding a plane for their final American destination. Canadians can save hundreds of dollars by taking advantage of the cheaper, domestic flights says Rachkovsky.
4. Extend health coverage
B.C. residents can normally spend up to seven months outside the province and still maintain their health coverage. But people who plan to vacation elsewhere for a longer period of time can apply to MSP foreign extended coverage of up to two years, according to Rachkovsky.