A former Conservative cabinet minister is urging the Liberal government to share information related to a controversial arms deal with Saudi Arabia that the past Tory government kept to itself.
Tony Clement, now his party's foreign affairs critic, told The Globe and Mail this week that Liberals should release details of internal federal assessments on the Arab state's human rights record.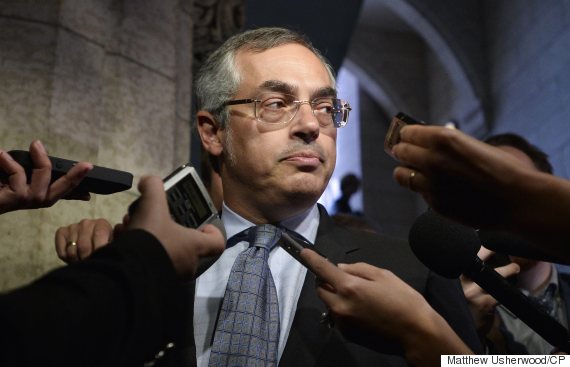 Tony Clement speaks to media on Parliament Hill. (Photo: Matthew Usherwood/CP)
He conceded to reporter Steven Chase that the past government of former prime minister Stephen Harper ruled out such a step, but noted Prime Minister Justin Trudeau has pledged a new era of transparency.
"So don't take the signal from the last government," Clement said. "If you want to be true to your principles and values, which the Conservative Party under new leadership shares, let's move forward."
Though Clement's words sparked calls of hypocrisy on social media, the veteran MP suggested a "rapidly changing" situation in the Middle East could be behind the push. The Huffington Post Canada has reached out to Clement for comment.
"So don't take the signal from the last government. If you want to be true to your principles and values, which the Conservative Party under new leadership shares, let's move forward."
Forty-seven prisoners, including a prominent Shiite cleric, were executed in Saudi Arabia last weekend. Clement released a statement at the time, saying the killing of Sheikh Nimr al-Nimr and other dissidents was "contrary to political and basic human rights."
The executions spurred more calls for Trudeau's government to cancel an Ontario company's deal — brokered by the Harper government in 2014 — to sell $15-billion worth of light-armoured vehicles to Saudi Arabia.
The vehicles are to be manufactured by General Dynamics Land System in London, Ont. and the contract is expected to create 3,000 jobs in southern Ontario. Human rights groups, however, fear the Saudi regime could one day use such vehicles against its own people.
Trudeau ruled out cancelling the deal in September and Foreign Affairs Minister Stephane Dion has confirmed that position hasn't changed.
"What is done is done and the contract is not something that we'll revisit," Dion told Rosemary Barton of CBC's "Power and Politics" last week.
Dion announced Monday that he aims to make public a redacted version of the government's classified assessment on Saudi human rights. A report from 2011 is being updated.
The minister said he was concerned about protecting sources sharing details about abuse from potential retaliation and was seeking advice from federal officials.
"The documents are intended for internal use and are classified. I would be pleased to release, upon request, unclassified versions," he said in a statement. "I want to ensure that we respect the safety and security of identified sources."
Clement told The Globe releasing a redacted version of the report was "not even a half measure."
Bloc Quebecois pushed issue on campaign trail
The Saudi arms deal surfaced during the French-language leaders' debate during the fall election amid reports a Saudi teenager was set to be beheaded and crucified for protesting against the regime.
Bloc Quebecois Leader Gilles Duceppe mocked Harper for saying Saudi Arabia was an "ally." The Conservative leader said that while his government has stood up for human rights, he would not "punish workers in a factory in London."
&nbsp
Harper later told a crowd in Quebec that "notwithstanding its human rights violations," Saudi Arabia is a partner in the fight against the Islamic State.
"We express our outrage, our disagreement from time to time with the government of Saudi Arabia for their treatment of human rights, but I don't think it makes any sense to pull a contract in a way that would only punish Canadian workers," Harper said.
With files from The Canadian Press
Also on HuffPost
Conservative Leadership Candidates