Bloomberg via Getty Images
REGINA — The rollover of a truck carrying uranium led to the closure of a Saskatchewan highway on Monday. The flatbed was hauling a shipping container with 63 drums of uranium powder, known as yellowcake, when it rolled near Swift Current, Sask. The uranium was produced by a company in Australia and was en route to Cameco's refinery in Blind River, Ont.
Here are some things to know about uranium and its shipment in Canada:
Yellowcake is "very raw''
Cameco spokesman Rob Gereghty describes yellowcake as "docile'' and having the consistency of dense sand. It's uranium powder that has only gone through the first of several steps to becoming nuclear fuel. He says it is easy to clean up with protective gear and shovels.
Any risk would come from inhaling or ingesting it, but Gereghty says people would have to be very close to have that happen.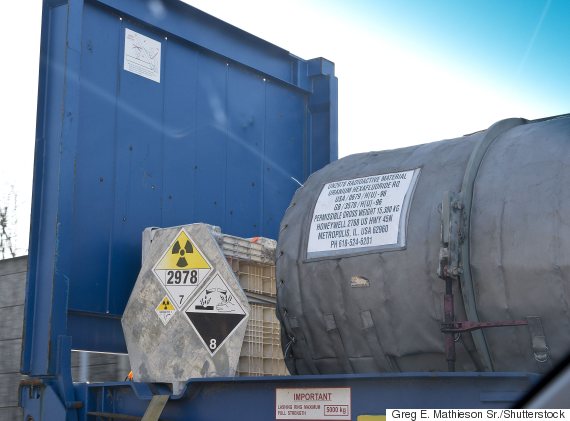 A tractor trailer truck hauls uranium down Highway 66 in the U.S. (Photo: Greg E. Mathieson Sr./Shutterstock)

Uranium shipping is regulated
The Canadian Nuclear Safety Commission regulates all aspects of packaging and transporting nuclear substances. The commission says thousands of packages containing different nuclear substances are shipped around the country every year. The majority of these substances are used in medical, industrial and commercial applications.
Cameco says it notified the commission of the accident and commission inspectors were sent to oversee the cleanup. The commission said Tuesday there are no risks to the public or the environment.
Canada ships a lot of uranium
Canada is the world's second-largest producer of uranium at 15 per cent of global production in 2012. Natural Resources Canada says Canada produced 9,331.5 tonnes of uranium in 2013 valued at about $1.2 billion, all from mines in northern Saskatchewan. Nearly 85 per cent of Canada's uranium production is exported. The rest is used to fuel reactors in Canada.
The world's largest and Canada's only uranium refinery is Cameco's operation in Blind River. Drums of uranium ore concentrates are shipped there from mines around the world and refined to uranium trioxide, a purer form of uranium.
Also on HuffPost:
Radioactive Container Stolen