The Canadian dollar is in freefall ... and so are people's bank balances, if grocery bills are any indication.
Analysts say the dollar could fall as low as US$0.59, the lowest it's ever been (the current record low is US$0.6179, set in January, 2002).
That's one factor, alongside growing conditions, that's leading to more expensive grocery bills across the country.
Much of the produce that Canadians buy is imported from the United States, and that means it's more vulnerable to changes in the value of the loonie.
A study by the Food Institute at the University of Guelph last year found that consumers added $325 to their food bill in 2015 ... and are likely to spend $345 more on top of that this year.
Social media posts indicate that Canadians are already feeling the pinch.
Three bucks. For a cucumber. pic.twitter.com/xGkygxkxqB

— Steve Ladurantaye (@sladurantaye) January 12, 2016
There are ways to save money in the grocery aisle.
Economist Sylvia Kong told Global News that shoppers can save money by using sales flyers and refraining from buying anything more than what they have on their list.
People can also buy canned or frozen food when it's too much to buy fresh.
Here are some more examples of sticker shock in grocery stores: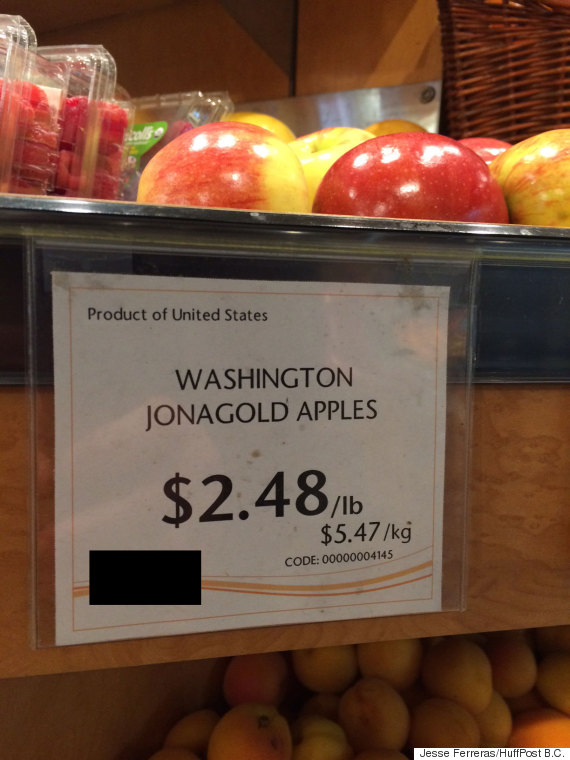 Avg. price for one kilo of apples in November 2015: $4.12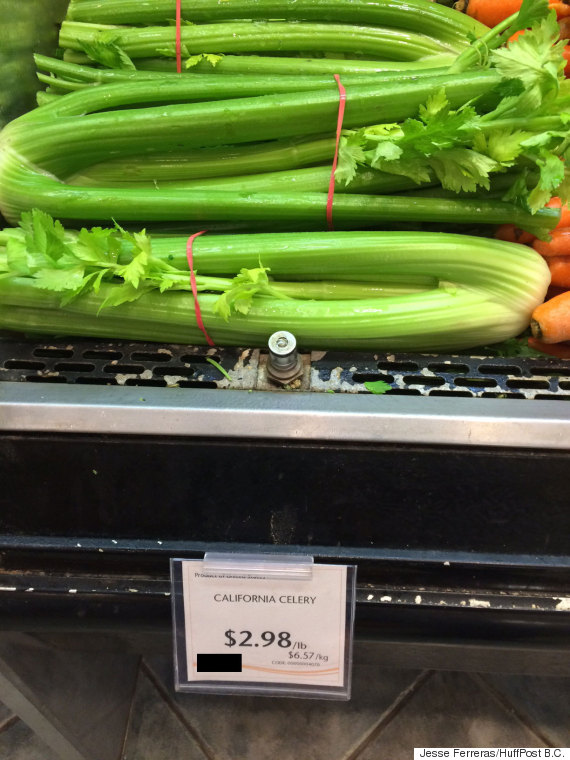 Avg. price for one kilo of celery in November 2015: $3.08
Sticker shock: The falling dollar is yet another factor pushing the cost of groceries higher: https://t.co/wXKDkdfHns

— CTV London (@CTVLondon) January 13, 2016
How to love good food at these prices. Someone stop this. @loblaws #fail pic.twitter.com/gZYc7Emooy

— Silvia Caicedo (@SilviaCai) January 1, 2016
@LoblawsON here's the other view. #notevenorganic pic.twitter.com/7zeVZFVu4s

— Silvia Caicedo (@SilviaCai) January 1, 2016
Seriously #Zehrs ? Wow WAY too overpriced. Got it at @sobeys for half the price. Losing me as a customer @LoblawsON pic.twitter.com/LYxcurtRjU

— Evelyn H (@Elevians_Grrr) December 16, 2015
#OMG can't wait to spend all my money in a grocery store. #RipOff #shrinking dollar #cdnpoli #cdnecon https://t.co/x2bLikXCTJ

— KaktusFlower (@kaktusflower) December 29, 2015
Think @LoblawsON already implemented their produce increase for 2016. Price has changed dramatically in the last wk https://t.co/ej6NiCkYNw

— Jess (@theLilGoat) December 30, 2015
Holy mother...... the price of groceries in Canada. (And everything else)..... Makes me weep.

— Lorraine (@ihearthestia) January 2, 2016
Like Us On Facebook

Follow Us On Twitter

Also on HuffPost
Most, Least Expensive Countries