THE PAS, Man. —There has been a surprise change of political stripes in Manitoba politics.
Tyler Duncan, who until very recently sat on the executive of the provincial New Democrats, announced Tuesday he is running for the Liberals in the April 19 election.
Duncan ran unsuccessfully for NDP president last March, at the age of 19, and was later elected as a member at large.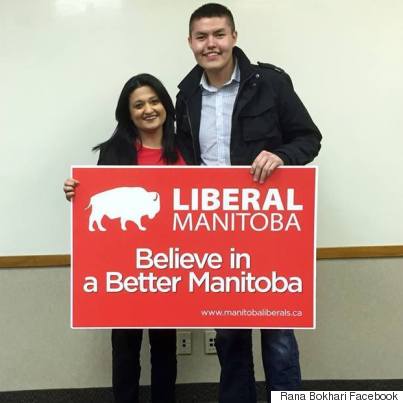 Tyler Duncan poses with Manitoba Liberal Leader Rana Bokhari. (Photo: Facebook)
His name was pulled from the NDP web site just a few hours before he announced he was running for the Liberals.
Duncan was not available for comment.
In a written statement, the Liberals described Duncan as longtime advocate for First Nations rights and a former youth chief for the Norway House Cree Nation.
The party did not say why Duncan left the NDP, but he appears to have a connection to a controversial New Democrat nomination race two weeks after he ran for party president.
On his Facebook page, Duncan says he is a grandson of Florence Duncan, who lost a bid to run for the NDP in a byelection in The Pas.
She received the same number of votes as Amanda Lathlin, and under party rules, a coin was tossed to decide the winner.
Lathlin won the coin toss and so won the byelection. Some party members in The Pas were upset that the matter was decided by a flip of a coin.
ALSO ON HUFFPOST: