Listen up Kylie Jenner fans, your favourite member of the Kardashian-Jenner clan has a new Lip Kit shade and she needs your help naming it!
The beauty mogul took to Instagram on Wednesday to debut one of three new colours from her forthcoming Lip Kit collection, which will be released just in time for Valentine's Day.
Take a look:
"I've been working on a new very exclusive formula that I have absolutely fell in love with," the 18-year-old social media queen wrote about the new magenta pink shade on Instagram. "But now I need your help on picking a name for this beauty!"
Yes, that's right. Kylizzle is handing it over to her fans to birth the name of the new liquid matte lip and liner shade. "Comment below what you think this lip kit should be named and I will pick one!" Kylie writes on her Lip Kit by Kylie account.
So, naturally, we did some digging through the nearly 44,000 comments left on the post to find our fave fan names thus far:
Kupid K
Sugar Plum K
Cotton Candy K
Devotion K
Konfetti K
Sweet and Sassy K
(And well done to the fans who knew to keep to the "K" trend that follows alongside Kylie's three original shades: Dolce K, Candy K and True Brown K).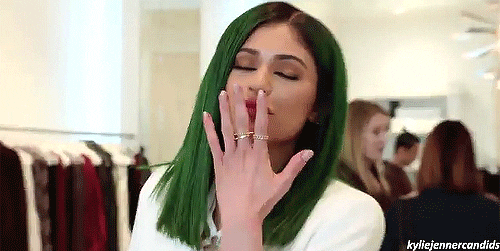 Last week, the "Keeping Up With The Kardashians" star teased her Snapchat viewers with a sneak-peak of her "bomb" new lip colours (despite being in black and white) that will hopefully be coming to our makeup bags soon.
For now, we'll just be sitting here brainstorming the perfect new shade colour so we can win the naming competition and become Kylie's new BFF.
Follow Huffington Post Canada Style on Pinterest, Facebook and Twitter!
Also on HuffPost
Kylie Jenner's 'Everyday Glam' Look