Federal New Democrats are pushing Prime Minister Justin Trudeau to personally intervene in the case of jailed Saudi blogger Raif Badawi — a call to action Canada's current foreign affairs minister made of the previous prime minister a year ago.
On Tuesday, NDP foreign affairs critic Hélène Laverdière released a statement condemning the arrest of Samar Badawi. She is the elder sister of the activist who was sentenced to 10 years behind bars and 1,000 lashes for criticizing clerics in Saudi Arabia.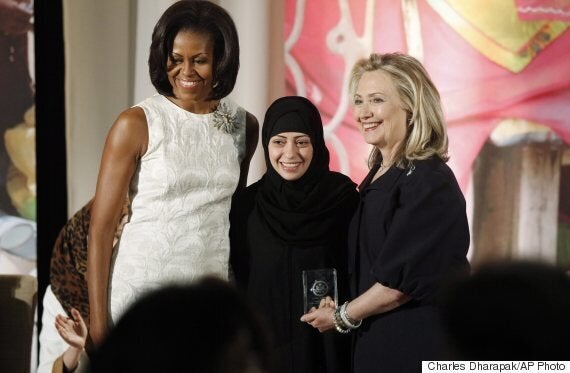 Samar Badawi is given the 2012 International Women of Courage Award from then-U.S. secretary of state Hillary Clinton and first lady Michelle Obama. (Photo: AP Photo)
Though neither Raif nor his sister are Canadian citizens, his wife, Ensaf Haidar, lives in Quebec with the couple's three kids.
Laverdière called on Foreign Affairs Minister Stephane Dion to immediately summon the Saudi ambassador in Ottawa to explain the arrest.
"The NDP also believes that Prime Minister Trudeau must personally intervene in this matter and request the release of Raif Badawi, his lawyer Walee Abulkhair, and his sister, Samar," the NDP MP said in the release.
"These cases once again highlight the Saudi authorities' disregard for human rights and the freedom of expression of Saudi citizens."
The request will no doubt sound familiar to Dion.
Last January, the veteran Liberal MP rose in the House of Commons to charge that Conservatives were reluctant to get involved in Badawi's case because he is not Canadian.
"Will the prime minister intercede directly with the new Saudi king as requested by Mr. Badawi's spouse?" he asked.
Conservative MP Lynne Yelich ducked the question by saying then-foreign affairs minister John Baird raised the matter directly with Saudi Prince Turki Al-Faisal and that Canada's ambassador in the Saudi capital was also working on the situation.
"Canada does consider the punishment to be a violation of human dignity," she said.
Marc Garneau, who now serves as Trudeau's transport minister, also raised the issue three times in question period last year.
"The time has come for the prime minister to intercede directly with the king of Saudi Arabia and tell him that these human rights abuses are intolerable and that Raif Badawi must be freed," Garneau said in June.
Then-foreign affairs minister Rob Nicholson responded that Canadian representatives had raised the issue with the Saudi government.
Trudeau did not broach the subject in the House, but did take to Twitter to call on Harper to do more to secure Badawi's release.
"It's time to act," he wrote in May.
But it appears Trudeau is in less of a hurry now that he's the one occupying the Prime Minister's Office. He told The Canadian Press last month he has no "immediate plans" to call Saudi authorities to ask for Badawi's release.
Instead, he will leave the file in the hands of his foreign affairs minister, just like his predecessor.
"It's a humanitarian case on which we continue to express ourselves in a clear fashion," Trudeau said at the time.
With files from The Canadian Press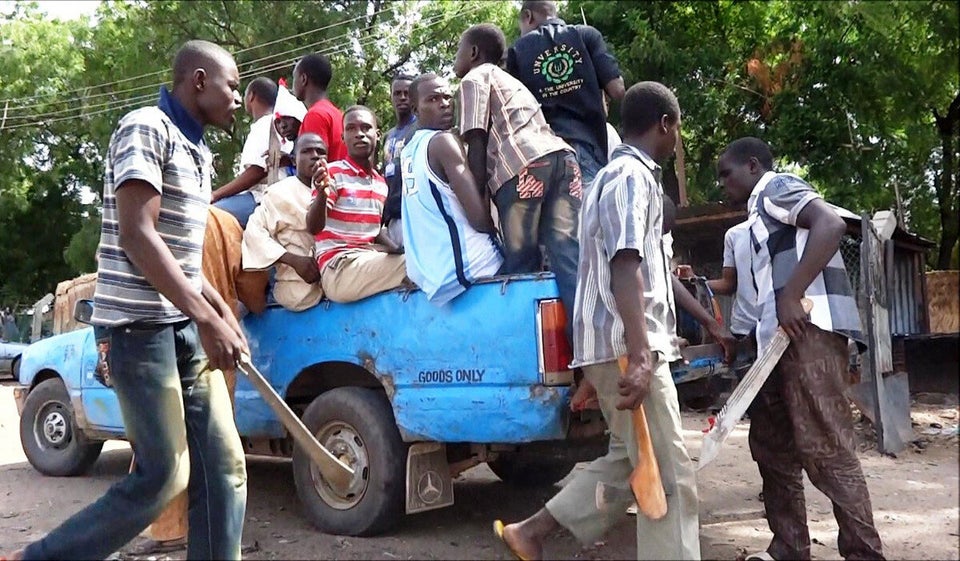 Human Rights Risk Atlas 2014 Worst Offenders