The Canadian winter can be tough on everyone, including our wildlife. Two Ontario men learned that firsthand when they spotted a deer trapped in frozen Stoney Lake last weekend.
The electricians, who were on a lunch break while working at Viamede Resort in Woodview, knew they had to help, according to Chex TV News.
Jay Wells and Peter Rennie first called the Ontario wildlife ministry but were told there was nothing the organization could do. The duo decided to take matters into their own hands and rescue the animal.
A video of their efforts was uploaded to YouTube by CHEX Newswatch earlier this week.
Before stepping onto the ice, they made sure it was solid and had a game plan, Wells told Buzzfeed Canada.
"We thought maybe to lasso it with a rope and drag it to shore, but thought it would be best for the animal just to use our hands," he said.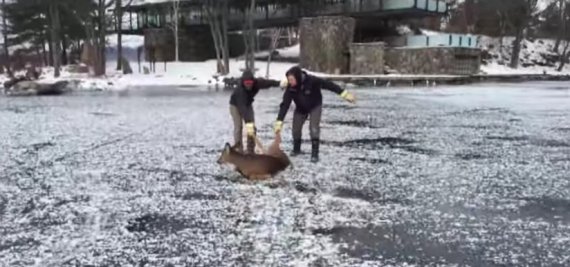 While the deer fought their grip at first, she ultimately gave in and allowed the men to rescue her to shore.
It was a happy ending, thanks to their bravery, as the deer eventually walked away seemingly unharmed.
The Canadian winter is hard on all of us, but these guys prove we can all get through it just fine.
Also on HuffPost
Baby Deer Rescued In B.C.