Pride Tape
It shouldn't require a herculean effort to make LGBTQ athletes feel welcome in their choice of sport, but one Edmonton-based campaign is aiming to do just that — starting with a few pieces of colourful hockey tape.
"We believe that these six colours can change the hockey world," Kris Wells, director of the University of Alberta's Institute for Sexual Minority Studies and Services told Metro News.
Wells is part of the organization behind Pride Tape, a Kickstarter campaign to equip hockey players with the special tape in hopes to make the game more inclusive.
"It shows every player that they belong on the ice. That we're all on the same team," reads the Pride Tape's campaign page.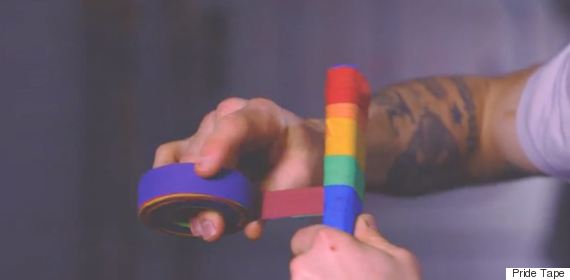 Oilers' player Andrew Ference wraps Pride Tape around a hockey stick in a video posted on the group's campaign page. (Photo: Kickstarter)

Far too many young people quit athletics due to discrimination, Wells told CBC News. He added says the tape will be a way to signal to players they're allies to the LGBTQ community.
Wells said hockey players are some of the biggest role models for youth in Canada, so the act of showing their support is significant.
"Hockey and human rights are two things Canada is known for. And putting them together can be a powerful combination," Wells told the Edmonton Sun.
Huge thanks to @Burkie2020 and @YouCanPlayTeam for supporting #pridetape. Keep those pledges coming! pic.twitter.com/arFyMnroFW

— Pride Tape (@PrideTape) January 5, 2016
Proceeds from the sale of the tape will go towards LGBT youth outreach groups including You Can Play and the Institute for Sexual Minority Studies and Services.
The campaign's initial run will consist of 10,000 rolls of tape. The group hopes to get them into the hands of as many players and teams as possible across Canada.
As of Wednesday, the Kickstarter has seen over 500 donations. Pride Tape has raised $31,000 of its $54,000 goal.
Pride Tape's campaign runs until Feb. 3. More details can be found at PrideTape.com.
Like Us On Facebook

Follow Us On Twitter

Also on HuffPost:
The Guide to Pride: Nine LGBT Destinations to Visit This Summer