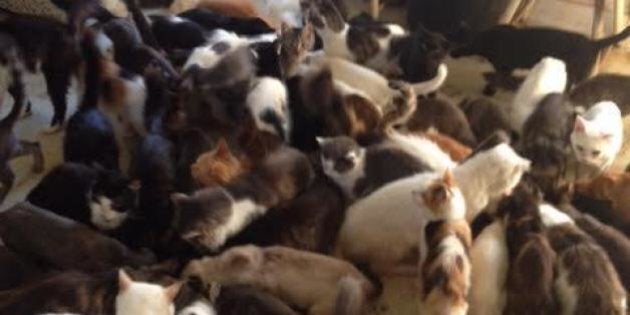 The Nova Scotia SPCA wants to remind the public that a couple cats can become a big problem quickly if they're not taken care of properly.
In November, a man called the Nova Scotia SPCA for help when he realized he could no longer care for the dozens of cats in his home. Over the past months, the charity has been helping him get the animals into shape for adoption.
A person, "who obviously loved cats" took a few in, but didn't have them spayed and neutered, said Jo Anne Landsburg, the agency's chief provincial inspector.
A few cats turned into a few more cats, and so on, and so on. Until there were 66.
"The owner became overwhelmed and unable to care for the cats so he called us," Landsburg told The Huffington Post Canada.
What they found were cats infested with lice, who were underfed and required extensive dental work, the SPCA told CBC News.
The charity is now facing a $26,000 bill for the cost of the medical procedures. That excludes the cost of housing and feeding the cats.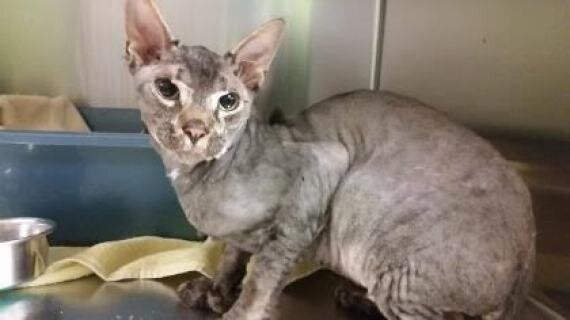 A Nova Scotia resident called the SPCA for help when he realized he could no longer care for his 66 cats. (Nova Scotia SPCA photo)
Some of the cats were so skinny they had to wait in kennels for weeks to gain weight before their surgeries, according to CBC News.
But the man who owned them won't be charged with cruelty, Landsburg said, "This was not presented to us as a cruelty case."
She added, "He wanted to do right by the cats and realized he was in over his head. There was no intent to do harm."
Some of the cats are up for adoption. "They are waiting to meet their new families and make their way to their forever homes," Landsburg said.