We've all had strict teachers like Professor Snape — merciless mentors who didn't give a flying hippogriff, swooshing into class with detention slips at the ready and accusing your squad of being up ... to something. We may have hated their hard-as-nails guts while buried under their never-ending assignments, but most times that tough love prevailed and made us better students.
With Alan Rickman's death at 69, we'll remember the man behind that iconic role — and so many others — for his compassion, his wisdom, and his devotion to keeping the magic alive in everything he did.
LESSON 1: Smile
But don't force it.
LESSON 2: Imitation Is The Highest Form of Flattery
Snape may have hated "foolish wand-waving and silly incantations," but don't lie: you've probably impersonated Alan Rickman's distinctively deep voice. Family Guy's done it, Tom Hiddleston's done it, and Benedict Cumberbatch can't stop doing it. Jimmy Fallon topped them all though, with his Rickman impersonation at SNL's 2013 Christmas special.
Rickman famously ignored Cumberbatch and Hiddleston's attempts, but when Jimmy Fallon and Cumberbatch had an Alan Rickman-off, he decided to call Fallon out for his shoddy voicework. And what better way to take someone to task than while huffing helium? Rickman's good-humoured attempts to get the late night host to 'fess up with balloons — or "Jimmy Fallon truth-telling machines," as he called them — show that dealing with copycats just takes high-pitched hijinks to sort things out.
LESSON 3: Pay Attention In Class
Those potions essays aren't going to write themselves.
LESSON 4: Be A Feminist
#alanrickman pic.twitter.com/4WXwnoUtM7

— Emma Watson (@EmWatson) January 14, 2016
LESSON 5: Be Shameless
If you got it, flaunt it.
LESSON 6: Support the Arts
In typical Weasley fashion, a bored Rupert Grint once drew an "un-pretty" caricature of the veteran actor. Grint just so happened to have doodled it while the imposing Rickman was standing behind him.
Rather than deducting a million points from Gryffindor, Rickman shocked Grint by asking for him to sign it.
"I have it in my possession," Rickman said. "I'm very fond of it."
LESSON 7: Pranks Aren't Just For Fred And George
Good reasons not to piss off Snape? He'll put a farting machine in your sleeping bag.
Not even the Chosen One is immune. Daniel Radcliffe was victim to the flatulence on set for "Harry Potter And The Prisoner Of Azkaban."
LESSON 8: When It Comes To Tea, Make It Epic
LESSON 9: Fall Safely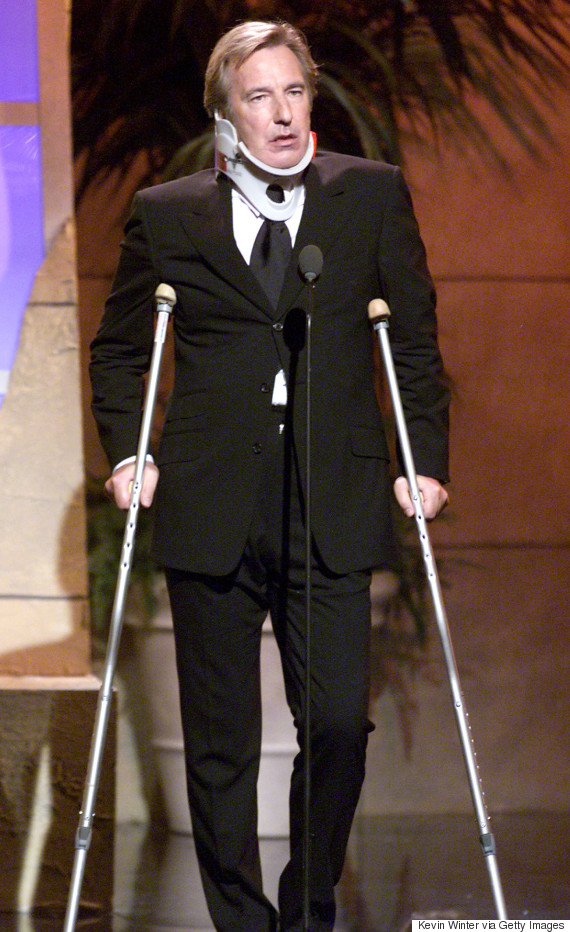 LESSON 10: Do It All
We remember Rickman best as the brooding Snape, but the actor's played every role under the sun. Notably, he starred in romantic films like "Love Actually" and "Truly, Madly, Deeply," as well as dominating the stage with his portrayals of Shakespearean characters.
In addition to the fantastical world of Harry Potter, Rickman dabbled in comedy as Metatron in "Dogma," sci-fi as Dr. Lazarus in "Galaxy Quest," and Marvin in "The Hitchhiker's Guide to the Galaxy."
Besides acting, Rickman directed complex films like "The Winter Guest" and "A Little Chaos" (although he couldn't help playing roles in them either).
We'll even still be able to enjoy his performances in upcoming movies "Eye In The Sky" and "Alice Through The Looking Glass."
Lesson 11: Romance Is Easy
LESSON 12: Have Good Taste
Harsh words, half-blood prince.
LESSON 13: Look Beneath The Surface
He shone best in the shadows. As villains like Hans Gruber in "Die Hard," Judge Turpin in "Sweeney Todd," and the Sheriff of Nottingham in "Robin Hood: Prince of Thieves," Rickman coaxed humanity out of the dastardly.
He may have had a bad guy reputation, but Rickman himself didn't think he was stuck with the baddies. In an anecdote shared on QI, John Sessions said Rickman once answered a child's query about his perpetual villain casting.
"I don't play villains. I play very interesting people," Rickman said.
LESSON 14: When Teaching Fails, There's Always Airlines
Apparently Hogwarts isn't immune to job cuts. (Good thing this airline employee ain't the real deal.)
LESSON 15: Say Goodbye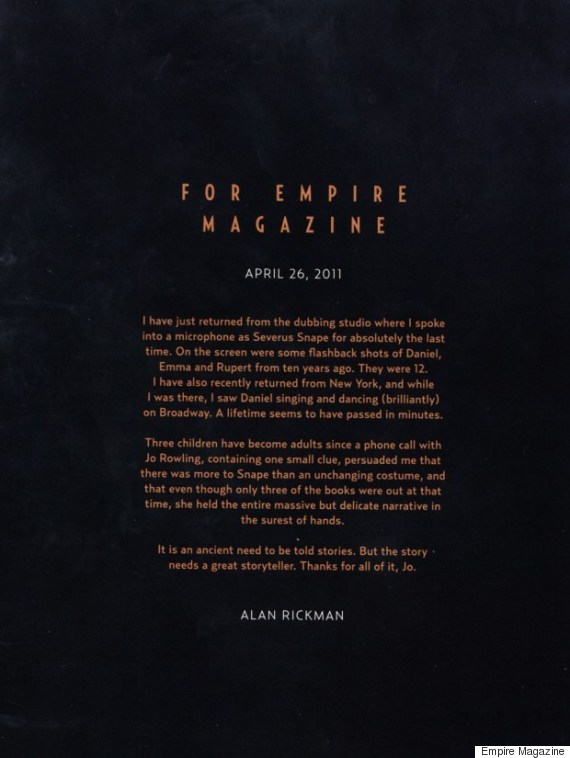 In his 2011 Empire Magazine farewell letter to the Harry Potter franchise and his Snape character, Rickman wrote that "a lifetime seems to have passed by in minutes." For those he left behind, that lifetime meant everything.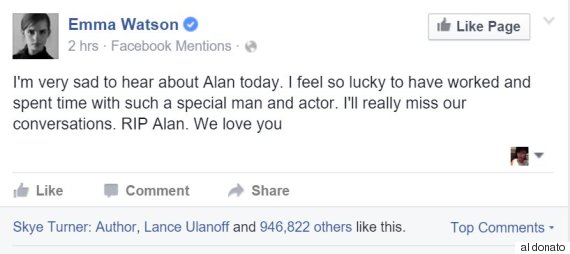 There are no words to express how shocked and devastated I am to hear of Alan Rickman's death. He was a magnificent actor & a wonderful man.

— J.K. Rowling (@jk_rowling) January 14, 2016
Shocked & sad to hear Alan Rickman has passed away. One of the nicest actors I've ever met.Thoughts and prayers with his family at this time

— James Phelps (@James_Phelps) January 14, 2016
Terribly sad news about the passing of Alan Rickman. A funny and engaging person who put a shy young actor at ease when I was on HP.

— Oliver Phelps (@OliverPhelps) January 14, 2016
Daniel Radcliffe on the death of Alan Rickman. #RIPAlanRickman pic.twitter.com/I4U4gke8mv

— Harry Potter Memory (@PotterMemory) January 14, 2016
Professor Snape leaves behind a generation of students saddened but ready to pass on the magic.
We'll miss you, Alan Rickman. For how long? Always.
Also on HuffPost
Photo gallery
Alan Rickman's Most Memorable Roles
See Gallery