Once you've made a connection on a dating service, the pressure is on. You've somehow got to come across as the hilarious, witty, master of seduction with dazzling eyes you know you are — all in one message.
That's where emojis come in.
Will a flirty winking face give the right impression? That joke wasn't all that funny, but should you respond with a crying with laughter face anyway? Will a salacious eggplant just cross the line? This is a total stranger, you don't know how they'll react.
Whether you want to develop something serious, or are looking for a fun hook-up, you still want to make the right impression. OKCupid understands, and in their 2015 report on the site's data, they've included an entire section dedicated to emoji stats.
Apparently, the emojis that saw the highest response rate were reactive, emotional ones. You know, the ones you'd likely use in place of a groan, a moment of anger, or a stint of shy blushing.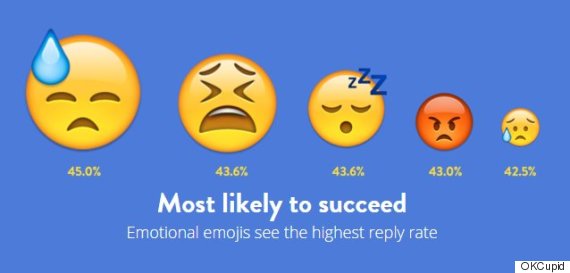 But it doesn't seem like many are brave enough to actually use them. The most used ones are the safer and more romantically-inclined smiles, heart-eyes and winks.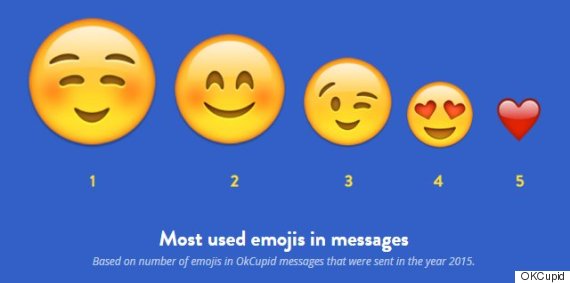 It could be that people felt using emotional emojis showed more expression, personality and engagement in the conversation. Or, going by Match.com's data, using a lot of emojis in general could mean you've got sex on the brain, so maybe that is another factor.
You have to admit, it's fun to get creative with these symbols. The most used food emoji happens to be the cake image, which could have as much to do with the Rihanna song as actual dessert. But your guess is as good as ours as to why an alligator and a bee top the animal list.
Regardless of which emoji you choose to send, you're better off putting that out there than a simple, "hey." According to OKCupid, opening with a standalone "hey" has an 86 per cent chance of being ignored.
It may seem silly that a tiny yellow cartoon face gets more attention, but in an age where communication cues like tone, facial expression, volume and more are all getting lost in texting and email, you have to use every tool at your disposal to your advantage. Even using periods in a text can unintentionally give off a sour vibe.
So next time you shoot someone a "hello," let loose, and throw 'em a toothy, yellow-faced grin.
Also on HuffPost
Dating Sites You Never Knew Existed