If you're planning on overthrowing the government and installing your own, perhaps consider a spelling lesson first.
A Facebook comment calling for a "kudatah" against Rachel Notley's NDP government has sparked hilarious online responses, after someone mangled the phrase "coup d'état."
Click for full size.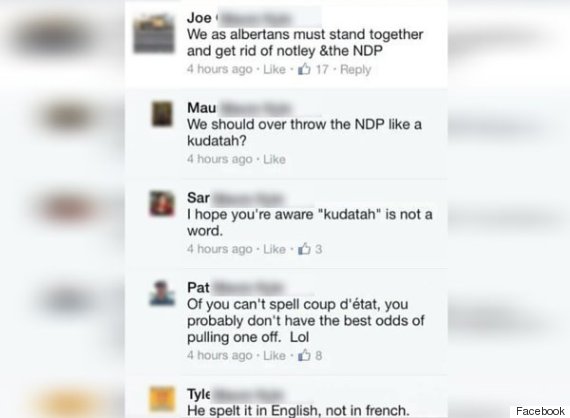 The comment, which was originally posted Nov. 30, 2015, was made in response to a post by Global News Edmonton about an Alberta legislature rally over the government's farm safety bill.
It made its way to Reddit, where it was posted under the headline "Geniuses plot 'kudatah' in Alberta."
#kudatah - It's "coup d'état" (from French) and it means overthrowing a government. pic.twitter.com/RiyLLmIQIt

— Paul Tomaszewski ن (@PaulTomBlog) January 12, 2016
The post, predictably, was immediately met with mockery — spawning a Twitter hashtag and satirical Facebook event for those looking to attend the "kudatah."
The #kudatah may have to be postponed. The injuries were sustained today at the team's door kicking practice. pic.twitter.com/MURZt1YQKn

— Jamie Post (@Jamie_Post) January 12, 2016
Some legislatures put in metal detectors for security. Apparently we just need an IQ test #kudatah #howmanyfingers

— Paul Doherty (@pgalberta) January 12, 2016
Seriously, though, think of the poor person who posted this. We bet they wish they had used a nomdaploome.
All you #ableg eggheads think you're clever mocking AB spelling. You won't be laughing when the #kudatah is a Feta Kamplee!

— Keith Silva (@keithjs) January 12, 2016
Maybe we should stop ridiculing the #kudatah folks. It's not nice to take please in others' misery. Shoddenfrewd is not very becoming.

— Jay Gamble (@DrJayDrNo) January 13, 2016
I hate to admit it, but #kudatah does have a certain genehsaykwah.

— Robin (@diesellibrarian) January 13, 2016
Like Us On Facebook

Follow Us On Twitter

Also on HuffPost:
The Ultimate Compilation Of Grammar And Spelling Mistakes