For the first time, more than a quarter of inmates in Canadian prisons are aboriginal people.
"The most current figure we have is quite shocking," said Correctional Investigator of Canada Howard Sapers, the country's prison ombudsman.
"In federal corrections, 25.4 per cent of the incarcerated population are now of aboriginal ancestry."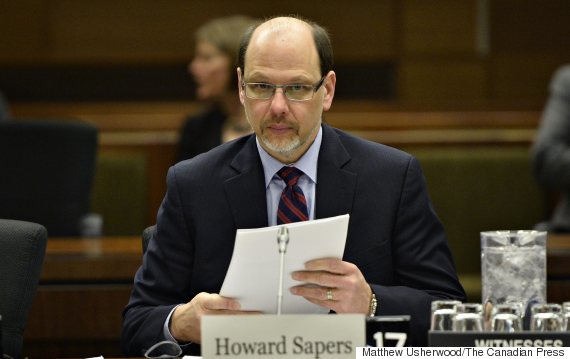 Correctional Investigator Howard Sapers appears before a standing committee on justice and human rights. (Photo: Matthew Usherwood/CP)
Of 14,624 inmates across the country, 3,723 are aboriginal people. In the Prairie provinces, 48 per cent of federal inmates are aboriginal people.
For aboriginal women, the numbers are even higher. According to the most recent statistics, more than 36 per cent of women in prison are of aboriginal descent.
Sapers said that three decades ago, 10 per cent of federal inmates were aboriginal people, but the number continues to grow each year.
"It's actually quite a dramatic increase," Sapers said. "It was identified year after year after year as a major concern, as a human rights concern."
Sapers said efforts to try to curb the high numbers don't seem to be working, including a Supreme Court decision that encourages courts to take aboriginal history into account when sentencing individuals.
He points to poverty, the history of colonialism and lingering effects of the residential school system as reasons why so many aboriginal people suffer from alcoholism and other problems that land them in the justice system.
'It doesn't surprise me'
"Unfortunately, it doesn't surprise me," says Kim Pate, executive director of the Canadian Association of Elizabeth Fry Societies, a group that advocates for the rights of women and girls in the justice system.
"In the next few years we could be looking at 40 to 50 per cent of the federal jail population being aboriginal women."
Pate says years of cuts to social services, health care, and education has multiplied problems faced by indigenous people in Canada.
"The greater the inequality, the greater the likelihood that they'll end up missing, dead, in the streets or in jail."
Still, she's optimistic that Canada's new federal ministers of Public Safety, Justice and Indigenous Affairs will take a serious look at calls to action issued by the Truth and Reconciliation Commission, which would see more funding for diversion and "realistic alternatives to imprisonment."
Also on HuffPost
Meet Canada's Indigenous MPs