Coun. Rob Ford underwent a fourth round of chemotherapy Wednesday for tumours on his bladder, his brother Doug Ford says.
The former mayor will continue to undergo chemotherapy to shrink the tumours and then will undergo surgery, said Doug Ford in an interview on Thursday.
Rob Ford, currently councillor for Ward 2, went to hospital last week because he was not feeling well, his brother said, adding that Ford has to stay in bed most of the time.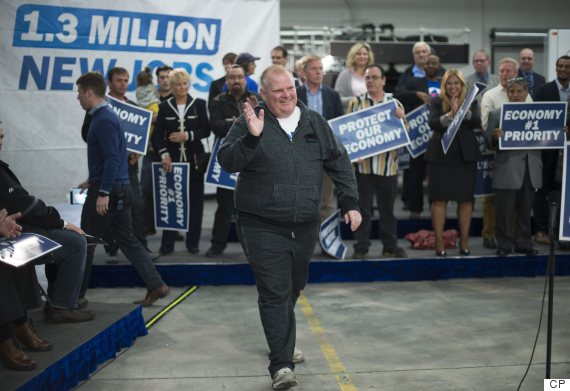 Rob Ford makes an appearance at a Conservative campaign rally in October. (Photo: CP)
But he continues to return constituents' calls from the hospital, said Doug Ford.
Rob Ford, 46, revealed in October he had a growth on his bladder after being hospitalized for several days due to abdominal pain .
In November, Doug Ford said his brother actually had two tumours on his bladder.
Ford underwent major cancer surgery in May to remove a large cancerous tumour from his abdomen. He was released from hospital two weeks later.
He was initially diagnosed with liposarcoma — a cancer that grows in fat cells — last fall. The diagnosis forced Ford to drop out of the mayoral race and then undergo chemotherapy and other treatments.
ALSO ON HUFFPOST:
Canadian Politicians Who Have Had Cancer