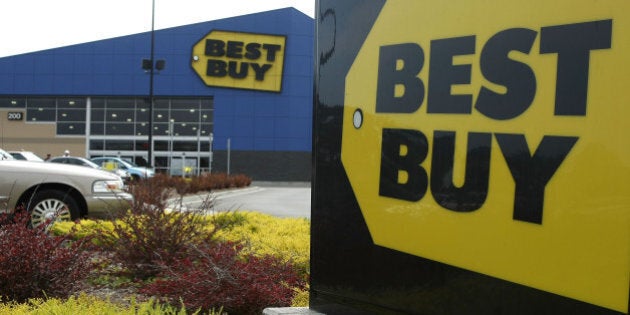 Best Buy is predicting a 30-per-cent drop in its Canadian sales for this quarter, following a disappointing holiday sales season that analysts blame on online sales and a lack of exciting new gadgets.
Sales at Best Buy's international division fell a steep 26 per cent in the nine-week holiday shopping period ending January 3, the company reported this week. Revenue was US$911 million, down from US$1.23 billion during the 2014 holiday season.
Minnesota-based Best Buy doesn't break out its numbers for Canada, but the country accounts for most of the electronics retailer's international sales. The company also operates a small number of stores in Mexico.
The company's U.S. division also saw a decline in sales, but by a much more mild 0.8 per cent. Still, the lower holiday sales were enough to tank the company's stock this week, which went from trading at around the US$29 mark to trading around the US$26 mark after the report was released.
The sinking loonie accounts for some of the lower numbers in Canada, as Best Buy reports in U.S. dollars. But "currency fluctuations" are only one reason the company cited.
The projected 30-per-cent decline in revenue is also due to "the ongoing impacts of the Canadian brand consolidation" and "softness in the Canadian market," the company said in its holiday earnings report.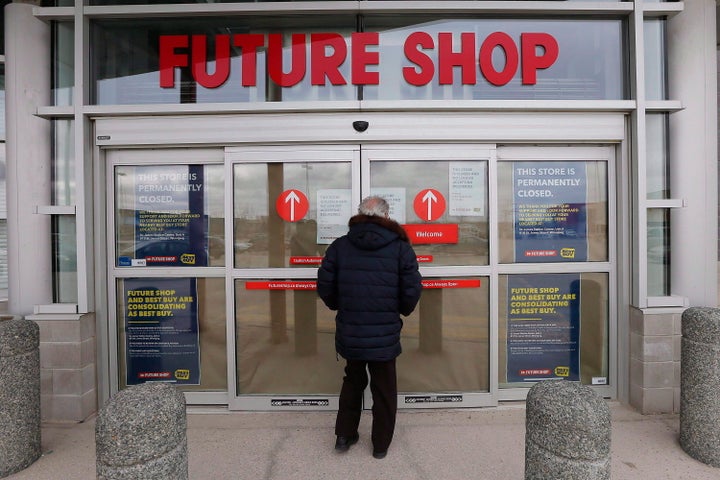 Future Shop customers are turned away by closed signs at a store in Winnipeg, Saturday, March 28, 2015. Best Buy closed the Future Shop chain last year, a move that hasn't yet proven itself in the company's earnings numbers. (Canadian Press photo)
The "Canadian brand consolidation" refers to Best Buy's decision last year to shut down 131 Future Shop locations, and reopen 65 of them as Best Buys. That's a move that some analysts say hasn't proven itself yet.
"Now, with the Future Shop brand gone, it will be interesting to see where that consumer spending goes, whether people will associate those discounts with Best Buy."
Alex Arifuzzaman, a partner at retail analyst InterStratics Consultants, says the real problem for Best Buy is online sales.
"The whole industry is changing and online sales are really impacting consumer behaviour when it comes to electronics," he told the Financial Post.
"It is a hypercompetitive area because the margins are very tight. … A lot of the high-margin Best Buy items that were making money in the past have also declined — cables, ink cartridges, CDs."
And there aren't enough exciting new products to replace those declining ones, said Alan Middleton, a marketing professor at York University's Schulich School of Business.
"There doesn't seem to be a new exciting piece of consumer electronics on the horizon, no major new device," he told the Post.
"One of the things that tends to drive people to the electronics retailers is the really new stuff."