A Missouri dad with a sense of humour rejected his six-year-old son's request for an advance on his allowance with a cheeky letter from Bank of Dad.
The young boy had asked his father for $20 to buy a new toy. In response, the father wrote a formal rejection letter as CEO of DAD Savings and Loan, with a letterhead tagline reading, "Because, apparently I look like I'm made of money." He then posted the letter to Reddit.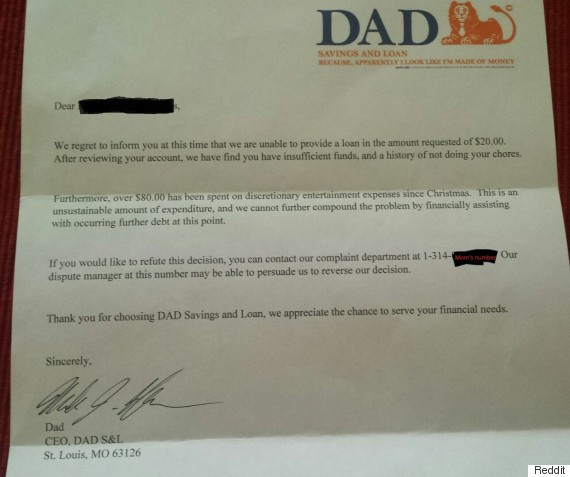 "We regret to inform you at this time that we are unable to provide a loan in the amount requested of $20.00," it reads. "After reviewing your account, we have [found] you have insufficient funds, and a history of not doing your chores."
The dad also notes the son's excessive spending since Christmas, further adding to his reason for denial.
"If you would like to refute this decision, you can contact our complaint department at [mother's number]," the letter ends. "Our dispute manager at this number may be able to persuade us to reverse our decision."
Since the image was posted, it has been viewed over three million times. Many users left positive comments applauding the dad's genius letter. "Complaint department = mom. This man knows how to parent," one said.
Another wrote, "As a dad, thank you for the template."
But despite the internet's amusement, many questioned the allowance amount the six-year-old was receiving in the first place. "Holy shit! $20 allowance as a 6yr old!?" one wrote. "I got like five bucks; or if I was really good, a hot wheel at the end of the week."
Nonetheless, commenters continued joking about the boy's reaction. "This kid is going to call Grandma Inc," one said.
Also on HuffPost
Hilarious Notes From Kids