CALGARY — The veterans affairs minister says the government will move quickly to solve problems facing former members of the Canadian Forces — everything from finding jobs to homelessness.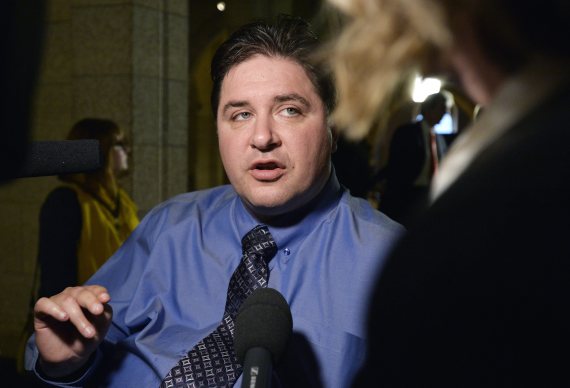 Minister of Veterans Affairs Kent Hehr talks with media in Ottawa on Thursday, Nov. 12, 2015. (Matthew Usherwood/CP)
"It's fair to say that the former government struggled on the veterans affairs file. I have an aggressive mandate from the prime minister to do better in this regard," Kent Hehr said Friday following a speech to the Canadian Club of Calgary.
"We made political hay out of this file and it's up to me and our government to deliver, and I'd say we're moving aggressively on it."
Earlier this month, the Liberal government released a report that estimated how many of Canada's homeless are former soldiers. The March 2015 study by Employment and Social Development Canada said 2,250 former soldiers use shelters on regular basis, about 2.7 per cent of the total homeless population that uses temporary lodging.
"We made political hay out of this file and it's up to me and our government to deliver."
The average age of homeless veterans is 52 compared with 37 in the general population. Many former soldiers cite alcoholism, drug addiction and mental-health issues as reasons for their circumstances.
Hehr was asked about homeless veterans by audience members following his speech.
"My department understands that homelessness is a complex issue, societal based, and yet no Canadian wants to hear of a veteran who has served our nation being on the streets," he said. "I share that sentiment and our department is on it."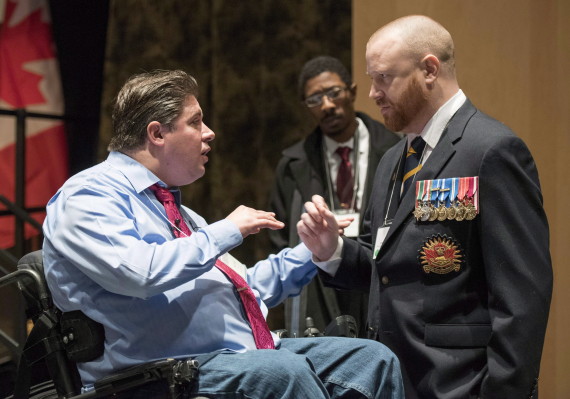 Minister of Veterans Affairs Kent Hehr speaks with veteran Brian McKenna in Ottawa on Dec. 2, 2015. (Justin Tang/CP)
First steps include reopening regional veterans affairs offices and hiring more staff, Hehr said. Longer term requirements are underway.
"When we do have a homeless veteran, that is a significant amount of time that staff need to invest to connect that person, not only to what's available in Veterans Affairs but to our provincial partners.
"My partnership with the defence minister is going to be very important to this on how we transition people to a healthier, happier life when they leave our national defence team."
Also on HuffPost: