Musique Brébeuf/Facebook
QUEBEC — Officials at a Quebec City area school board are struggling to deal with the tragic deaths of six locals killed in the terrorist attack in Burkina Faso.
Four of the six Canadians were current or former employees of the board, which cancelled classes today for students at both Jean-de-Brebeuf and Cardinal Roy high schools.
The Canadian victims are Yves Carrier, his wife Gladys Chamberland, their adult son Charlelie Carrier and Yves' adult daughter, Maude Carrier.
"It's a tragedy."
The family members, along with the two other Quebecers who were killed — Louis Chabot and Suzanne Bernier — had been on a humanitarian mission in Burkina Faso.
They were among at least 28 people killed when terrorists linked to al-Qaida stormed a hotel and cafe in the African country's capital of Ouagadougou late Friday.
Erick Parent, secretary-general of the Commission scolaire de la Capitale in Quebec City, told a news conference today that support was being offered to friends and colleagues of the victims.
While classes were cancelled, students were welcome to come to the schools if they wished to do so, Parent said. A dozen psychologists were also on hand to help staff deal with their grief.
Canadians killed in Burkina Faso included family doing aid work in orphanages. https://t.co/9sLpxYANAN pic.twitter.com/L0viacFTio

— TorontoStar (@TorontoStar) January 18, 2016
"It's a tragedy," he said. "What we must do is support our employees, and also our students, who are affected by the hundreds through the teachers they've frequented in recent years."
Yves Carrier was an assistant principal before his retirement and Bernier had been an administrator at two elementary schools before she retired.
Maude Carrier and Chabot were secondary school teachers as of Friday.
A mother of two, Maude Carrier had a twin sister and husband who both worked as teachers at the same board.
Parent said classes will resume Tuesday with staff keeping a close watch on the reactions of students while preparing to be confronted with tough questions about how locals were victims of terrorism.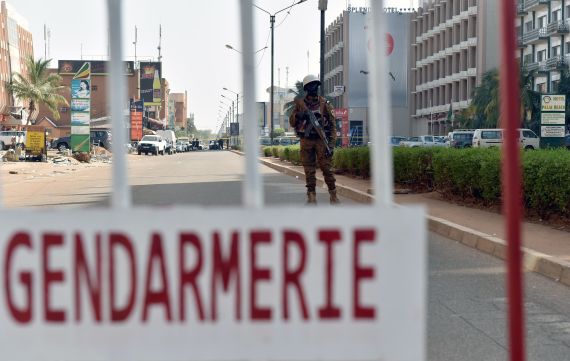 A Burkina Faso gendarme stands guard outside the Splendid hotel and the Cappuccino restaurant following a jihadist attack in Ouagadougou on Jan. 16, 2016. (Issouf Sanogo/AFP/Getty Images)
Many of the students have already publicly posted their thoughts on social media.
"I think that things will have to be handled delicately," Parent said.
He said the board's 5,000 employees and 28,000 students will hold a minute of silence on Tuesday before classes begin.
Chamberland, a civil servant, worked for Quebec's Natural Resources Department.
Also On HuffPost:
Burkina Faso hotel attack

AHMED OUOBA via Getty Images

AHMED OUOBA via Getty Images

Gunmen attack hotel in Burkina Faso

Anadolu Agency via Getty Images

Anadolu Agency via Getty Images

Anadolu Agency via Getty Images

Anadolu Agency via Getty Images

Anadolu Agency via Getty Images

AHMED OUOBA via Getty Images

AHMED OUOBA via Getty Images

AHMED OUOBA via Getty Images

AHMED OUOBA via Getty Images

AHMED OUOBA via Getty Images

AHMED OUOBA via Getty Images

AHMED OUOBA via Getty Images

AHMED OUOBA via Getty Images

NABILA EL HADAD via Getty Images

NABILA EL HADAD via Getty Images

NABILA EL HADAD via Getty Images

AHMED OUOBA via Getty Images

AHMED OUOBA via Getty Images