He may want to be the next Conservative leader, but the welcome mat out is not out for television personality Kevin O'Leary, says one of the party's longest-serving MPs.
O'Leary is bad news and an undesirable candidate to replace Stephen Harper as leader, Calgary MP Deepak Obhrai told The Huffington Post Canada Monday.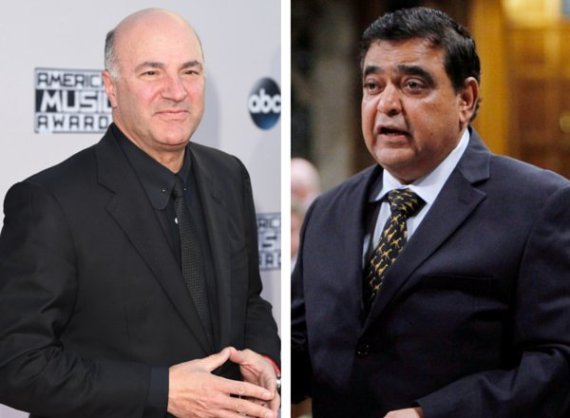 Deepak Obhrai says Kevin O'Leary doesn't have the "foggiest idea" what the Tories are about. (Photo: Getty/CP)
Obhrai, who was first elected in 1997, is the dean of the Conservative caucus. He said his party was built on grassroot support and has gone through a tremendous amount of rebuilding since the Reform party split from the Progressive Conservatives, the Canadian Alliance was formed and then merged with the PCs to form the current Conservative party in 2003.
"I never saw this guy [O'Leary] anywhere. Anywhere. At any of these functions. As a matter of fact, I haven't heard from him in those 18 years, and now we have a celebrity trying to run. Well, he doesn't have the foggiest idea what this party is all about," Obhrai told HuffPost.
O'Leary is a celebrity businessman and a frequent contributor on business programs and popular television shows, such as ABC's Shark Tank. He was also featured on CBC-TV's Dragon's Den.
Last week, O'Leary mused publicly about running for the Tory leadership. He talked to current interim leader Rona Ambrose about a potential bid. Monday, a new poll among likely Tory supporters had him neck-and-neck against former longtime MP and Conservative cabinet minister Peter MacKay as the preferred candidate. MacKay left politics before the last election, saying he wanted to spend more time with his young family. He has yet to state officially whether he plans to run.
"We do not want another celebrity running around for our party."
O'Leary has economic expertise "because he is a rich businessman," but more is required in a leader, Obhrai said. "It's also about health care and senior issues and other important issues, such as foreign affairs.
"This guy doesn't have any of those things. We do not want another celebrity running around for our party."
Obhrai compared O'Leary's possible run to that of former Ontario MP Belinda Stronach, the daughter of billionaire Frank Stronach who lost her bid for the Tory leadership, became an MP, and eventually joined the Liberals when prime minister Paul Martin offered her a cabinet seat to help save his minority government.
"Belinda is a good example of someone coming from outside, look what the consequences were. She crossed the floor."
"He talks nonsense."
Obhrai suggested there is no groundswell of support for O'Leary and that longstanding Conservatives have a better sense of how the party should position itself in the future than the celebrity capitalist.
"He talks nonsense."
Last week, O'Leary made headlines after telling a radio program he was ready to invest a million dollars in Alberta's oil patch if NDP Premier Rachel Notley resigned and handed the province over to someone he deemed more qualified to lead the province's troubled economy.
"He forgot one thing," Obhrai noted. "Rachel Notley was democratically elected by the people of Alberta." He suggested that O'Leary believed Albertans could be bought for a million bucks. "He doesn't respect the democratic will of the people. What the hell? I'm sorry, but that doesn't go well with us."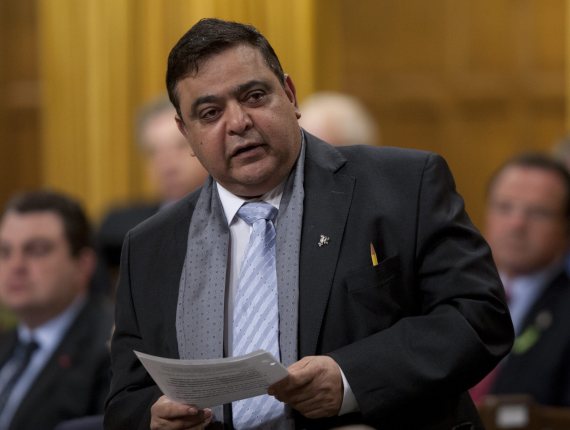 Deepak Obhrai also says former Toronto city councillor Doug Ford is the "wrong candidate" for the job. (Photo: CP)
"He is welcome to run – nobody can stop him from running – but he's not right," Obhrai added, declaring that O'Leary is too divisive and doesn't even speak French.
"He just comes as a TV personality and thinks he can take over the party. Absolutely not. That is not going to be the way it is going to be…. We don't need a so-called White Knight."
Obhrai said he also thinks former Toronto city councillor and mayoral candidate Doug Ford is "the wrong candidate."
He tweeted that Ford, who also let his name float as a potential candidate was not suitable for the Conservative Party of Canada.
"I'm leader of the Conservative caucus, and I'm speaking my mind. I've been in this party for 18 years, and I have been through a lot of leadership races," Obhrai told HuffPost.
"I want to see a candidate who is intelligent, who is thoughtful and who has the ability to attract a majority of Conservative Canadians from coast to coast."
Ambrose told CTV's Power Play that she thought the members were smart enough to decide for themselves whether O'Leary should be leader.
"We welcome people from outside the party and inside the party. It will make it all the more exciting."
"We have really common-sense grassroots members that are activists in this party, and they'll make the right decision," she said barely able to hide her smile after host Don Martin described O'Leary as someone who "shoots from the lip without any sign of political correctness." Still, she said, she welcomes anyone who believes in free enterprise, low taxes and balanced budgets to join the race.
"We welcome people from outside the party and inside the party. It will make it all the more exciting."
Also on HuffPost
Harper's Legacy: Top Achievements, Failures, According To Poll