Koch brothers-owned refinery wants to be paid for oil it 'buys'

Iran about to flood world with even more oil

Oil selling for half the price of the barrel it comes in
The global oversupply of oil has gotten so severe that the billionaire Koch brothers are offering to "buy" it at minus-50 cents per barrel.
In essence, they are asking sellers to pay them to take the crude off their hands.
Zero Hedge blog posted this chart from Wichita, Kansas-based Flint Hills Resources, which posts its asking prices for oil. The company is owned by the Koch brothers, known these days for their large financial contributions to conservative causes.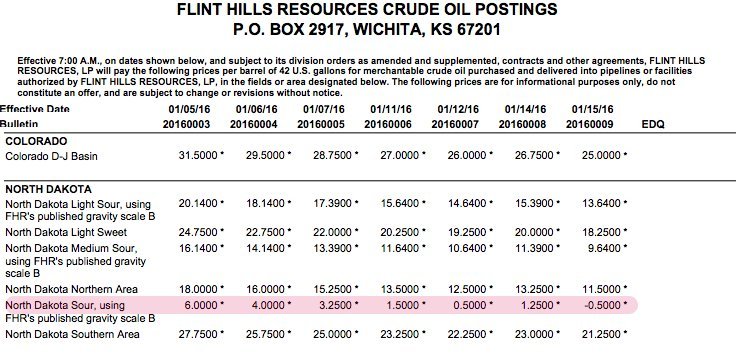 Source: Flint Hills Resources via Zero Hedge
The chart shows how much the company is willing to pay for different types of crude. For North Dakota sour, a particularly low quality of crude, it will only buy if the seller offers to pay them 50 cents per barrel.
According to Bloomberg, Flint Hills was paying $13.50 a barrel for this oil a year ago, and $47.60 in January, 2014, before oil prices began falling.
"For some U.S. producers the business isn't just loss making, it's an exercise in sadomasochistic futility," Zero Hedge quipped.
Economists blame the oversupply on years of high oil prices that resulted in heavy investment in new oil fields. The expansion of Canada's oilsands and the development of the U.S.'s shale oil fields were two of the largest contributors.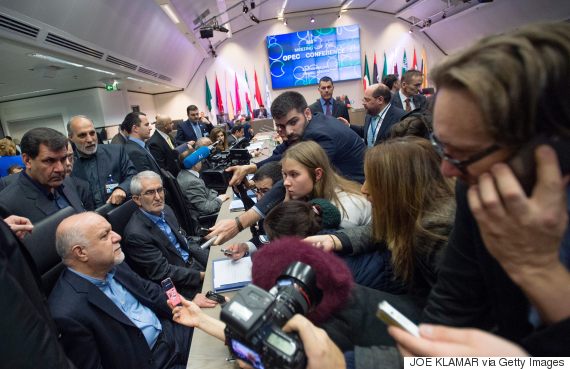 Iran's Minister of Petroleum, Bijan Namdar Zangeneh (bottom left), speaks to journalists at the 168th ordinary meeting of OPEC, Vienna, Dec. 4, 2015. Iran is about to add half a million barrels of oil to the global supply. (Getty Images)
Iran To Bring Half A Million Barrels To Market
The estimates are that the world is producing about two to 2.5 million barrels of oil more than it needs daily.
Now that number could rise by another half a million barrels daily.
International sanctions against Iran were lifted over the weekend, following last year's agreement between world powers and the country. Iran plans to start delivering 500,000 barrels daily to the global market, the Wall Street Journal reports.
"The lifting of Iranian sanctions should add to the selling momentum in oil prices," Norbert Ruecker, commodities research head at , Julius Baer, told the newspaper.
"The oil market is seemingly facing its final washout while transitioning into a new normal."
Oil Barrels Twice As Expensive As A Barrel Of Oil
In a sign of just how far oil prices have fallen, mutual fund manager Igor Des posted this picture to Twitter on Sunday.
That feeling when a barrel costs more than a barrel of #oil pic.twitter.com/TnJY4Vi8eM

— Igor Des (@Copernicus2013) January 18, 2016