OTTAWA — Thomas Mulcair faced the national media Monday, hoping to make his case for why he deserves to stay on as party leader as calls for him to step aside mount.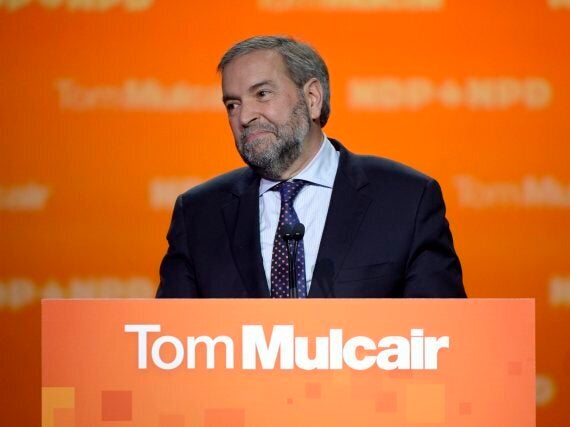 NDP Leader Tom Mulcair speaks to supporters, Monday, Oct. 19, 2015 in Montreal. (Ryan Remiorz/CP)
Mulcair said he was energized after the Christmas break and excited to get back to work with his colleagues fighting against inequality and injustice. He laid out the NDP's latest call to arms, the Trans-Pacific Partnership agreement, a massive free-trade deal among Pacific nations that the Liberal government appears poised to sign, but which, Mulcair suggests, threatens thousands of good jobs in Canada.
Despite wanting to talk about the TPP, the NDP leader faced a barrage of questions over his own leadership after he led the party from first place in polls at the beginning of the campaign in August to a crushing third-place finish that saw half of his caucus members lose their seats, taking the NDP from 103 seats in the 2011 election to 44 seats in 2015.
"It wasn't there for us this time," Mulcair told reporters in explaining the Oct. 19 result. "As a team, we haven't been to the finals very often, and I can tell you that we learned a lot. Next time, we'll be there to get the cup."
In April, Mulcair faces a leadership vote at the party's national convention in Edmonton. He told reporters that he needs 50 per cent plus one vote to avoid a leadership race and that he hopes to get more than that — much more than that — but he refused to set a floor and say how much support he wants in order to remain the party leader.
"I know that that support can be there. I sense it is there, but I'm not taking anything for granted."
"It's up to the members to decide that," he told HuffPost when asked for his desired support base. "I don't take anything for granted. I'm humbled, before the membership and the extraordinary wave of good ideas that have come forward since the election to correct what they see as being problems. I'm also determined, very proud to lead this party, and I'm going to go before the membership without presuming anything … and ask for their support, and it has to be, of course, beyond 50 per cent."
What about 60 per cent? Mulcair wouldn't say.
"I know that that support can be there. I sense it is there, but I'm not taking anything for granted."
Mulcair said he will continue to work with the parliamentary caucus, plans to meet party officials this weekend and will likely head to a riding in Manitoba to meet with grassroots members.
First, however, Mulcair will meet with his MPs Tuesday for a two-day caucus retreat in Montebello, Que., before the House of Commons returns next week.
Mulcair urged to take responsibility for NDP's defeat
During his press conference, the NDP leader struck a more pensive tone than he has in the past several weeks and months, when he has mostly played down the NDP's stunning defeat.
After the election, he blamed the niqab issue for the party's loss of support in Quebec — despite the Liberals' holding the same position. To the party faithful in Vancouver in November, he praised the party's election result in the province and reminded volunteers that the party had its second best showing ever.
Since then, several high profile New Democrats have suggested their leader is dreaming in technicolour if he believes he can stay on to fight the next election in 2019. They had hoped Mulcair would take responsibility for some of the NDP campaign's worst strategic mistakes, pointing to the call for a balanced budget in the midst of a technical recession. So far, Mulcair hasn't.
"I shared the sadness and the disappointment of many people. But now, I'm encouraged by what I see across the country."
On Monday, he declined to give a straight answer about whether he believes the federal government should bring in a balanced budget and if he thinks deficits, right now, are necessary because of the declining loonie and the massive drop in oil prices. It was left up to an aide to explain the party leader's position.
The night of the election, Mulcair said: "I shared the sadness and the disappointment of many people. But now, I'm encouraged by what I see across the country."
He never thought of resigning. Not once, he said. "It's not in my nature."
Toronto MPP calls for new federal leader
The voices who have spoken out against Mulcair have mostly been disgruntled, defeated MPs, speaking confidentially, who felt they had lost through no fault of their own — having raised more money and identified more supporters than ever — but because of a badly run national campaign. The most vocal New Democrat willing to speak on-the-record has been Cheri DiNovo, an MPP for Toronto's Parkdale–High Park where the former incumbent MP Peggy Nash also lost her seat.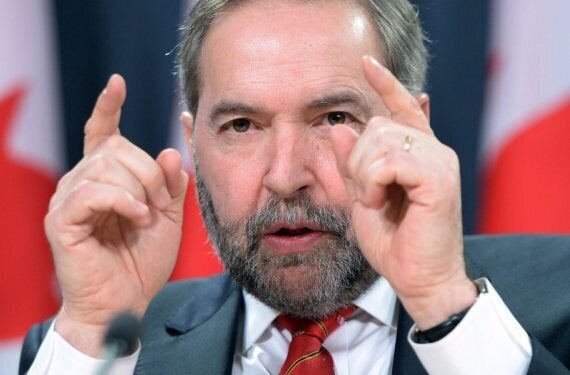 NDP Leader Tom Mulcair holds a press conference at the National Press Theatre in Ottawa on Jan 18, 2016. (CP/Sean Kilpatrick)
Monday, DiNovo told The Huffington Post Canada that she doubts Mulcair can stay and that, at a bare minimum, he should want support for his leadership to be in the high 70s.
"Fifty plus one is absurd; it's absurd to me," she said, laughing. "Even in the 70s…. For an incumbent leader, you want incredible support behind you, that's what you need."
The federal election was "a disaster" for the NDP, DiNovo said.
Whether or not it was Mulcair's ideas or those of advisers to call for fiscal discipline during a technical recession or rid the party of its socialist label, he agreed to it, she said. "The end result was he said 'yes' to that, and we need a leader who second-guesses those folks if that is the direction they are taking us."
"They need to hear directly that it wasn't their fault that we lost."
NDP donors and volunteers, those who gave their time and money, deserve to hear him and the central campaign take responsibility, she added.
"They need to hear directly that it wasn't their fault that we lost."
"I need to hear him — and I think many of us do — look at what was said, things like balanced budgets, etc. He needs to take responsibility. The idea of running another campaign with somebody who has lost 50 per cent of our seats doesn't seem like a realistic option to me. It really doesn't."
DiNovo said she has always admired Mulcair for his intellectual abilities and his help for the Quebec breakthrough. But the party should focused now on deep soul-searching and not be consumed with or scared about the idea of finding a new leader.
"The reality is there cannot be another potential leader until space is made for them."
It's not just about Mulcair or his capabilities, DiNovo added.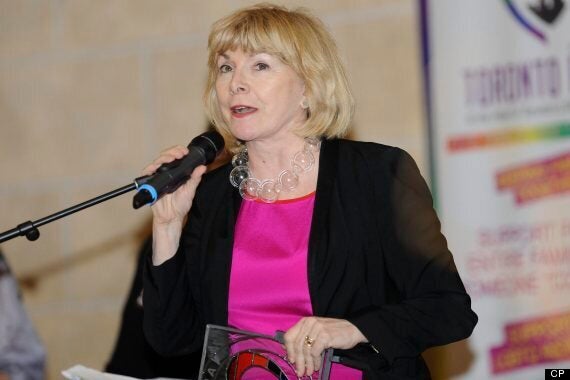 Parkdale-High Park MPP Cheri DiNovo says the federal NDP need a new leader. (Photo: CP)
"It really needs to be not about him right now, quite frankly. It really needs to be about the needs — I would say even greater than the NDP, [of] democratic socialism and that movement in Canada — that we need to be the party that represents that.
"We need to look at how we do things, how we do politics, what kind of politics we represent, who our base is. We need to do all of that work," she said, referring to how the federal Liberals successfully addressed the same sort of considerations after their disastrous showing in the 2011 election. "We've got four years."
But can Mulcair stay on as leader while the NDP finds itself?
"I'm really dubious that that is a possibility, that we can go forward as a party, you know four years from now with the same leader from this last disastrous election, I'm really dubious about that absolutely.
"If a leader loses half of the seats in the party and struggles to keep his own, that leader is in trouble and should be in trouble, and that's really all I'm saying," the Ontario MPP added. "The fact that we continue to deny the obvious seems to me really bizarre and doesn't help.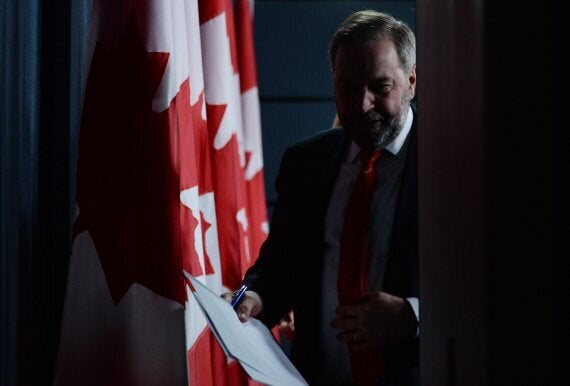 NDP Leader Tom Mulcair holds a press conference at the National Press Theatre in Ottawa on Jan 18, 2016. (CP/Sean Kilpatrick)
"I'm not alone," DiNovo added. "I'm expressing what I am hearing from a lot of people who seem to not want to speak out.
She's speaking out, she said, because she thinks it's her duty to tell the truth and, because she isn't tied to the federal party, she doesn't have to support him and the party can't fire her.
"Only the electorate can do that, and I'm responsible ultimately to them, and that is who I am listening to and that is who I am speaking for."
Even if Mulcair "manages" to remain leader after the April convention, DiNovo warned, it doesn't "necessarily mean that he will be the leader at the time of the next campaign either."
The NDP asks its members every two years whether they want a leadership race, which means if Mulcair stays on in 2016, he could still be ousted in 2018.
"At the end of the day, he stands for that campaign in the imagination of the Canadian public, and that is a real problem."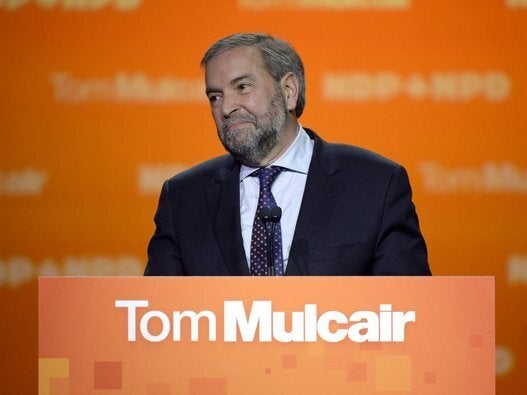 Key NDP MPs Defeated In 2015 Election