dave.cournoyer/Flickr
EDMONTON — Alberta's education minister says he is disturbed by the latest example of dysfunction at Edmonton's Catholic school board and he acknowledges that dissolving the board is an option.
"I'm very concerned because of course they are responsible for many tens of thousands of children and running one of the biggest boards in the province,'' David Eggen said Tuesday.
"We need to know the procedures for making decisions are clear.''
Board members met without the knowledge of their chairwoman last week to send out to all parents a letter from Calgary's bishop.
The letter from Bishop Fred Henry condemns a provincial guideline school boards have been told they must follow to develop policies for LGBTQ students.
Next steps
Eggen was asked if he is considering dissolving the Edmonton Catholic board.
"Moving down that road is certainly one of the options I have available to me, and I have been reflecting on that in the last few days,'' he replied.
Eggen is to meet again with facilitator Donald Cummings in the next few days. The minister hired Cummings last fall to help Edmonton Catholic board members work together. That was deemed necessary after public meetings about a transgender girl disintegrated into shouts, anger, insults and tears.
New guidelines
Edmonton Catholic is one of 61 school boards across Alberta who have been told they must draft policies to make schools safe and welcoming to LGBTQ students. The drafts are to be submitted to the province for review by March 31.
Guidelines outlined by the province last week specify that transgender students be allowed to use the washroom of their choice, depending on their sex or on whether they perceive themselves to be a girl or a boy.
They say students should be allowed to dress based on the same principle and play on sports teams they feel align with their sexuality.
Eggen has said he expects the submissions will reflect the spirit, if not the letter, of the province's blueprint.
'Totalitarian'
The guidelines provoked a furious response from Henry. He said in an open letter to parishioners that the guidelines and overall policy plan were "totalitarian'' and contrary to church teachings.
On Friday, Edmonton Catholic school trustees forwarded Henry's letter to all parents in the district. It was not a unanimous move. Board trustee Patricia Grell, in a blog post, said she opposed the decision and apologized to parents for it.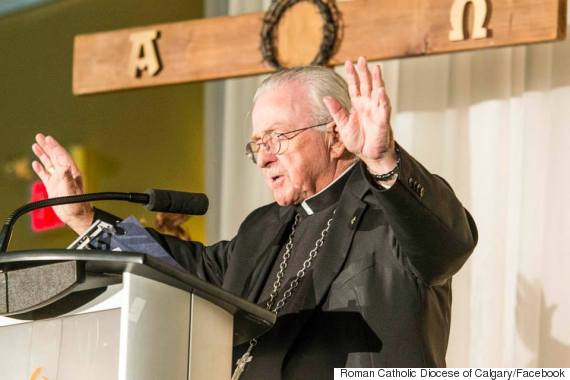 Calgary Bishop Fred Henry has condemned Education Minister David Eggen's guidelines for LGBTQ students in the province. . (Photo: Roman Catholic Diocese of Calgary/Facebook)
Marilyn Bergstra, chairwoman of the Edmonton Catholic board, also apologized for the letter being sent and told reporters that she was not part of the decision to send it out.
Also Tuesday, the Alberta Catholic School Trustees Association said in a release that it was disappointed in the process that led to the guidelines.
The association stated it "reaffirms its commitment to work with Alberta Education and regrets Alberta Education's lack of consultation during the development of the guidelines.''
The association also reaffirmed "the responsibility and the role of the Alberta Catholic bishops to provide moral and theological leadership to the Catholic community, including Catholic education communities.''
Also on HuffPost:
10 LGBTQ Young Adult Novels To Make It Better