WINNIPEG — Manitoba Premier Greg Selinger promised money for a park, a non-profit agency and flood protection Tuesday as he capped off a pre-election announcement blitz that by law had to stop by the end of the day. The NDP enacted legislation in 2009 that all government advertising and announcements must stop 90 days before a provincial election — a date that is fixed and comes this year on April 19. As a result, the government has been making several announcements a day — often more than a dozen — since the start of the year. The blitz had Opposition Leader Brian Pallister accusing the NDP of trying to "spend its way to popularity."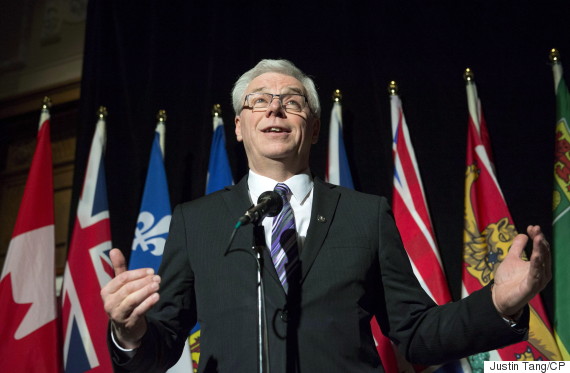 Manitoba Premier Greg Selinger speaks to reporters at the Council of The Federation in Ottawa. (Photo: Justin Tang/CP)
"There's always a certain advantage ... to having your hand on the reins of power," Pallister said Tuesday. "The government controls the purse strings and the government controls the timing of their announcements." The blackout period used to be much shorter, but the New Democrats lengthened it to 90 days from 35. The idea was to level the playing field so that the party in power could not use government funds to make what amounted to election promises. Such rules vary among provinces. Saskatchewan has restrictions similar to Manitoba's. Ontario has no ban on announcements until an election campaign officially starts.
Media the watchdog, Selinger says
Selinger said the media and voters would be able to tell if a government tried to game the system. "I think the media create the level playing field. They act as a watchdog on everything we do," he said. "You can do as many announcements as you want. Unless they make sense in terms of the values and priorities of Manitobans, we're going to get criticism for it or we're going to get skepticism about it." Opinion polls suggest Selinger is facing an uphill battle in his bid for re-election. Several recent polls have pegged support for the NDP some 20 points behind the Progressive Conservatives and in a close contest with the third-place Liberals.
"There's always a certain advantage ... to having your hand on the reins of power."
On Tuesday, Selinger promised $15 million for a new garden conservatory that is supposed to be cost-shared with the federal government and the private sector. The announcement was made even though the federal government has yet to commit. The premier also announced up to $1.5 million a year for the United Way, and led a media tour of a new office for the province's flood forecasting staff. Selinger said it's necessary for the government to outline its plans. "What we've been trying to do is put out the vision we presented in the (November) throne speech — a good five-year plan to keep Manitoba moving forward." When the blackout kicks in, Selinger and other politicians are restricted to announcements and advertisements organized and paid for by their respective parties. Limited exceptions include matters of public safety and advertising tenders for government contracts. — With files from Jennifer Graham in Regina and Keith Leslie in Toronto
Also on HuffPost