Ninety journalists at daily newspapers are expected to lose their jobs after Postmedia informed staff the company would be merging newsrooms across the country.
Confirmed: approx. 90 newsroom jobs being cut across the Postmedia chain. #cdnmedia

— James Bradshaw (@jembradshaw) January 19, 2016
An internal memo from CEO Paul Godfrey told staff that newsrooms in Vancouver, Calgary, Edmonton, and Ottawa would be merging, although the company would be maintaining "separate brands in each of these markets," the memo said.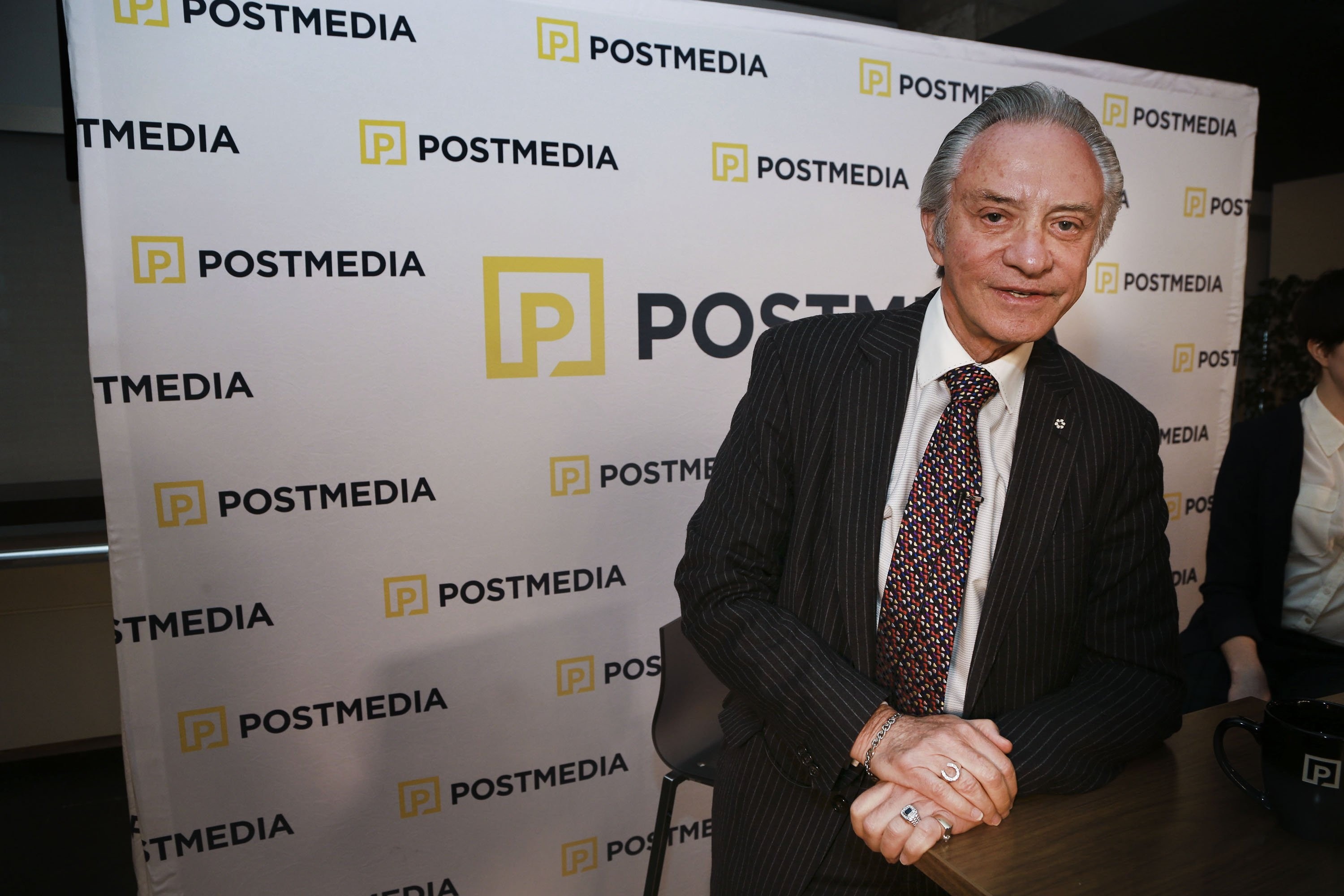 Postmedia CEO Paul Godfrey. (Canadian Press photo)
Postmedia owns the National Post, the Calgary Herald, the Edmonton Journal and Vancouver Sun and Province newspapers, among others. It also owns the Sun Media chain of newspapers, which includes newspapers in Calgary, Edmonton and Ottawa.
Here's the memo from Paul Godfrey on the cuts. #cdnpoli pic.twitter.com/gfaYbgrOmi

— CANADALAND (@CANADALAND) January 19, 2016
At the Edmonton Journal, staff were told that the Journal's managing editor Stephanie Coombs and editor-in-chief Margo Goodhand "have left the organization," according to The Globe and Mail.
Super sad to say that as of today, I'm no longer with the @edmontonjournal. It's been a privilege to work there and tell Edmonton's stories.

— Stephanie Coombs (@stephcoombs) January 19, 2016
Getting laid off is giving me a peek at what my funeral might be like! Everyone is saying such lovely things. You all are too kind. :-)

— Stephanie Coombs (@stephcoombs) January 19, 2016
So sorry to leave that tremendously talented @edmontonjournal newsroom. No regrets.

— Margo Goodhand (@margogoodhand) January 19, 2016
Two sports reporters at the National Post also confirmed they were losing their jobs Tuesday.
Sad to say I'm also part of the Postmedia cuts today. So grateful for the opportunity @npsport gave me

— Kaitlyn McGrath (@kaitlyncmcgrath) January 19, 2016
Count me as one of the ones affected by the cuts. It was a fun 4 months and I learned a lot. https://t.co/pKftFAQ7B4

— David Alter (@dalter) January 19, 2016
Kevin Griffin, who writes a blog for the Vancouver Sun, tweeted that the Sun and the Province's newsrooms would be combined.
Postmedia announces that The newsrooms of the Vancouver Sun & The Province to be combined but separate brands maintained #Vancouver

— Kevin C. Griffin (@KevinCGriffin) January 19, 2016
Rumours swirled last November about the future of dailies in Calgary, Edmonton and Ottawa after Frank Magazine alleged Postmedia would merge the company's newspapers with the cities' Sun editions.
Last week, BuzzFeed leaked news that Godfrey had requested a call with Ottawa Mayor Jim Watson, but Godfrey wouldn't say whether the meeting was personal or professional.
"Why would I tell somebody who works for the great organization called BuzzFeed?" Godfrey said.
It's hard not to think of the $400,000 bonus Paul Godfrey received in November for the Sun deal. https://t.co/Z7dX3yVzR0

— Jana G. Pruden (@jana_pruden) January 19, 2016