OTTAWA — Alberta Crown prosecutors say the charge of infanticide is "outdated and rife with problems" and are asking Canada's top court to order a new trial for a woman convicted of the crime after tossing three of her newborns into the garbage. Meredith Borowiec of Calgary was originally charged with two counts of second-degree murder for the deaths of two of her children in 2008 and 2009.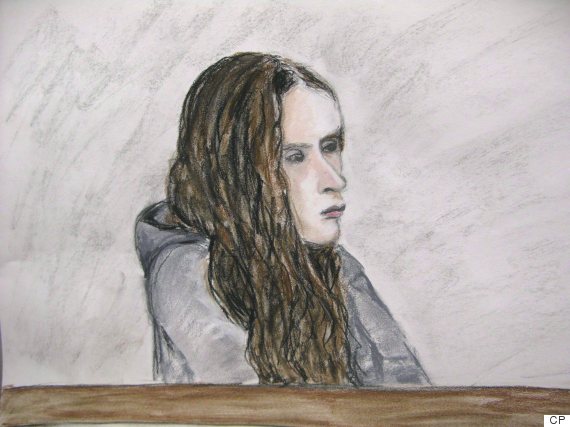 Meredith Borowiec appears in court in Calgary on March 26, 2013 in this court artist's sketch. (CP)

A third infant born in 2010 survived when the baby's father, not knowing it was his child, helped pull the newborn out of a neighbourhood trash bin after a passerby heard cries. The trial judge ruled Borowiec was suffering from a mental disturbance at the time and found her guilty of the lesser crime of infanticide, along with aggravated assault. 
"The defence of infanticide is vague, outdated and rife with problems."
Borowiec was sentenced to an additional 18 months in jail two years ago on top of the 18 months she had already spent in custody. She was also given three years of probation. Alberta's Court of Appeal upheld the infanticide verdicts, but it was a split decision, meaning the matter automatically moves to the Supreme Court. Arguments were to be heard Wednesday. In documents before the high court, prosecutor Julie Morgan argues there is no clear guidance as to what constitutes a "disturbed mind."
Infanticide defence 'outdated'
"The defence of infanticide is vague, outdated and rife with problems," she writes. "The infanticide provision requires a purposive and pro-social interpretation that would prevent this defence from being applied across the board to all mothers who kill their newborn children while only mildly disturbed."  Borowiec's lawyers, Andrea Serink and Alias Sanders, argue infanticide is part of the human condition. "The dissenting justice and the appellants raise a floodgates argument that mothers suffering the 'baby blues' will kill their offspring days or weeks or months after birth, then escape murder convictions if this appeal is dismissed," they write. "Times have changed, women's circumstances have improved, neonaticides have substantially diminished, but prototypical offenders, of which the respondent is the most recent, are and probably always will be amongst us."
Borowiec's confession to police
In interviews with police, Borowiec admitted she heard the babies cry before she put them in trash bags and dropped them into garbage bins, but denied doing anything to hurt them before she disposed of them. Court heard she didn't even look to see whether it was a boy or a girl before she wrapped her first-born infant in a towel and put it in a garbage bag. Borowiec admitted to a similar scenario in 2009 when she again gave birth into a toilet in her apartment, wrapped the child in a towel and dropped it into the bathroom garbage before walking out to a dumpster and disposing of the child. Borowiec gave birth to a fourth baby while in police custody in July 2012. The child was taken from her. — By Bill Graveland in Calgary