For as long as I can remember, I've been addicted to black eyeliner.
Unlike most 16-year-old girls who wear just a gentle flick of mascara during their high school years, I was the girl sporting a very heavy Amy Winehouse-inspired winged liner that, now that I come to think about it, probably intimated nearly every person who came in contact with me in the hallways.
But alas, from the moment my beauty-loving mother taught me how to construct the puuurfect cat eye, I knew eyeliner was my beauty product soulmate. In the words of cat eyeliner extraordinaire, Alexa Chung, "I've always been into eyeliner. I feel naked without it."
But I had one problem: I couldn't find an eyeliner that I truly loved.
Yes, trust me, I've trailed a fair share of black eyeliners throughout the years (gels, kohls, liquids, pencils, you name it), but I'm constantly having the same problem over and over again: when you wear a thick, bold liner across the eye, it's bound to smudge or slowly fade throughout the day (which leaves one feeling disappointed and looking not-so-cute).
I heard rumours of a great, long-wear eyeliner that lives amongst us, however. One that holds the title of number one eyeliner on the shelves of Sephora, calling out the names of every beauty fanatic in existence: Kat Von D's Tattoo Liner.
If you take one look at Kat Von D, you can tell the famous tattoo artist knows liner: she intensifies the eye unlike any other in the beauty industry with her dramatic, thick wings.
I was ready. It was time to follow the hype and see if this liner really had tattoo-like qualities.
Nearly a week ago, I marched into Sephora and picked up Tattoo Liner in Trooper, an ink black colour, for $23.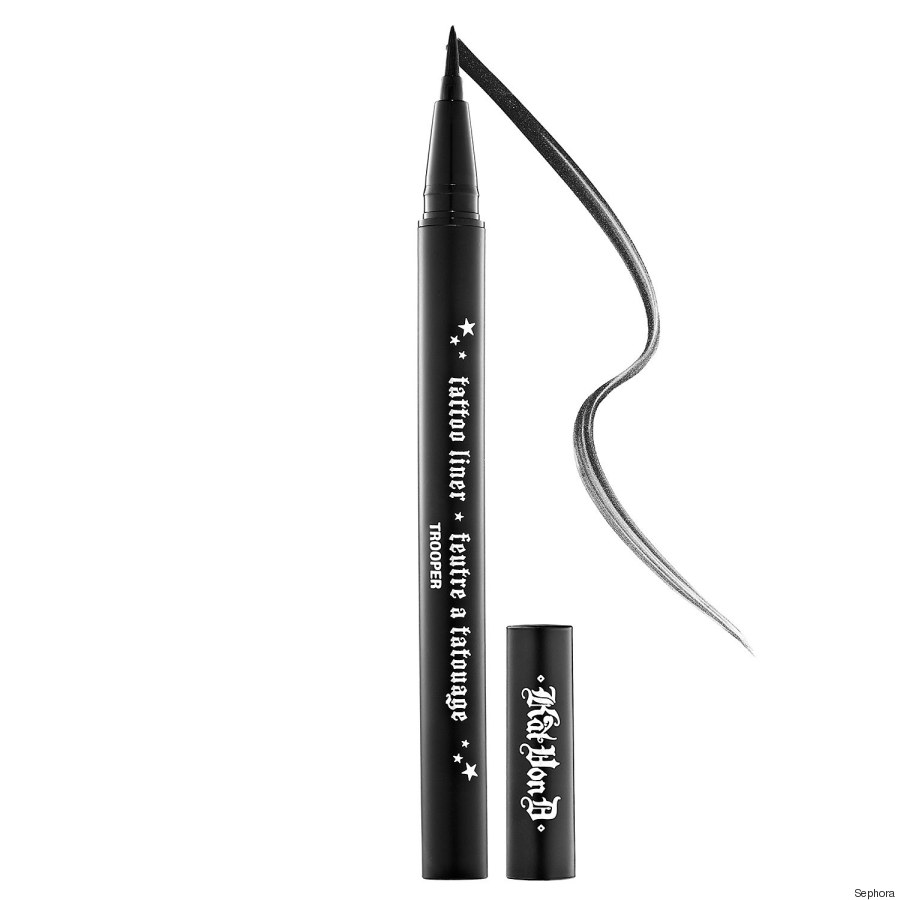 Upon my first application of the eyeliner, I was overwhelmed. The thin, precise brush was incredibly flexible, making it easy to control how thick or thin you want your liner to be, depending on the pressure you apply. Yes, liquid eyeliners can be intimidating to use, but for the perfect cat eye, this is tremendous — the brush makes it easy to create a thin line from the corner of your eye to the middle, where then you can start creating your bolder line by adding on the pressure. The liner's innovative tip also makes creating your wing *that* much easier.
But the best part of this little wonder? The long-wear quality. Kat Von D designed the waterproof liner to fight fading, melting and cracking, literally making it seem as if you tattooed liner to your lids.
Don't believe me? Check out how it fared on me throughout the day:
Exhibit A) In the morning, just after applying my full face of makeup, with the fresh eyeliner.
Wearing @KATVONDbeauty Tattoo Liner paired with @BenefitCanada "They're Real!" Lengthening & Volumizing Mascara. pic.twitter.com/099kcFC097

— monika markovinovic (@heyitsmonika) January 20, 2016
Exhibit B) After braving a snowstorm walking to work, a full day sitting at my desk staring at my computer screen and rubbing my eyes, a lunchtime gym session and an after-work eye doctor appointment (where I conducted a million eye exams).
Wearing @KATVONDbeauty Tattoo Liner paired with @BenefitCanada "They're Real!" Lengthening & Volumizing Mascara. pic.twitter.com/8kmEqXmzlC

— monika markovinovic (@heyitsmonika) January 20, 2016

Besides a few smudges on the wings (which I'd say is inevitable when a doctor is putting eye drops in your eye), the eyeliner truly kept its form.
The intense colouring of the formula was still bold, something I had hadn't experienced with other eyeliners after a long day on-the-go.
And you know you found the perfect liner when your friend texts you: "Your eyeliner is more on point than my life."
Success. Finally.
Follow Huffington Post Canada Style on Pinterest, Facebook and Twitter!
Also on HuffPost