Well, that's one way to elevate hockey to new heights.
What started as a promotion by Molson Canadian for a select few to play hockey above Toronto's financial district has morphed into an opportunity for some sky-high shinny for anyone at all.
Provided you can pay two grand for it.
The brewer's #AnythingForHockey rooftop rink was originally slated to close Jan. 29 once their contest wrapped up, but now the company's decided to keep it up until Feb. 7.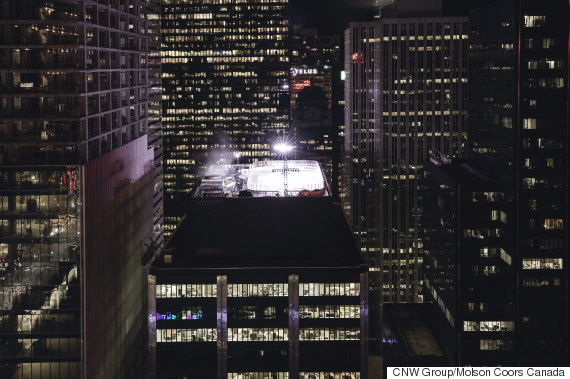 Molson Canadian's rooftop hockey rink sits 32 stories high above 120 Adelaide St. W. in Toronto.
"The rink was built for our lucky contest winners and was going to be dismantled after we filmed the incredible experience", said Molson Canadian's marketing director Chris Blackburn. "But after listening to our fans online, we simply had to open the doors to other passionate Canadians."
So now the company's offering ice time to anyone with cash to burn. There are 15 spots spread out between Jan. 29 till Feb. 7 that can accommodate parties up to 20 people, according to the company's press release. Sessions run 90 minutes long and are broken up into one hour of ice time and 30 minutes to relax inside at their lounge.
If you don't have $2,000 to spare, Molson's also extended their contest to anyone looking to win their way onto the 100-by-45-foot rink. But if you can't make the 32-storey trip up to the Toronto skyline, check out the video above to see what you're missing out on.
Also on HuffPost
B.C. Mountaintop Hockey Game