The interim leader of the Conservative Party, who as health minister consistently railed against any notion of legalizing marijuana, has had something of a change of heart.
No, Rona Ambrose does not suddenly support legalizing pot. But on Wednesday, in another apparent shift from her predecessor Stephen Harper, the official Opposition leader suggested on a Vancouver radio show that the sooner the new Liberal government takes action, the better off kids will be.
Ambrose, currently on a cross-country tour focused on the economy, was pressed by CKNW AM 980's Simi Sara on the past government's record of pot prohibition and whether the stance hampered her party's election results.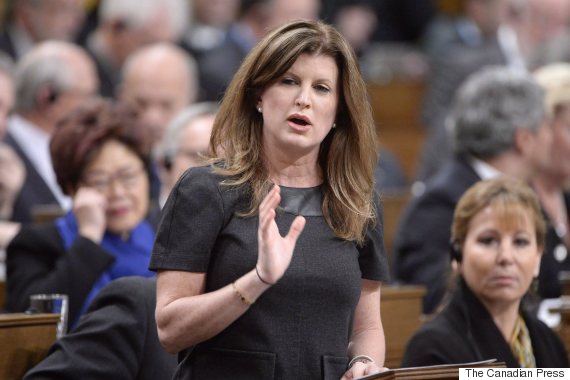 Interim Tory Leader Rona Ambrose speaks in the House of Commons. (Photo: The Canadian Press)
Ambrose said as health minister under Harper, she was concerned about the "infiltration" of unregulated marijuana dispensaries. There was evidence, she said, that such stores were selling pot to children.
She remains worried about dispensaries now that the "cat's out of the bag."
"There's hundreds of them popping up," she said.
When Sara noted much of that happened under Ambrose's watch, the top Tory said that while her party always expected police to "do their jobs," the City of Vancouver opted to regulate dispensaries on a municipal level — a decision she blasted publicly last June.
While repeating her concern that legalizing pot normalizes the drug, Ambrose conceded that a large faction of Canadians — "that are mostly adults, to be frank" — want access to marijuana for recreational purposes. Those voters supported Justin Trudeau's Liberals in the last campaign and were a "strong force" in places such as Vancouver.
Now, Ambrose wants to see what Trudeau's government plans to do to control the substance.
"The sooner they can move on that, the better to protect kids."
"Whatever (the regulations) look like, Prime Minister Trudeau has said he's going to keep pot out of the hands of children. So, good," she said. "That's what we need to do.
"I hope that the faster they move on this the better because the proliferation of pot dispensaries is quite large. It's moved now, not just in Vancouver but across the country and they're unregulated. So, the sooner they can move on that, the better to protect kids."
Trudeau has long maintained that legalizing and regulating the drug will do more to keep it away from children — a position that was repeatedly blasted by Tories in attack ads.
Listen to Ambrose's full interview below:
Ambrose said she was 'skeptical' Liberals could protect kids
In an interview with The Huffington Post Canada last month, Ambrose expressed doubt that legalizing pot could help keep the drug away from young people.
"That's not what we've seen in other countries," she said. "As the Liberals move forward, our big push with them will be to make sure that if they're going to legalize that they implement the regulation in a way that protects children. And I'm very skeptical that they are going to be able to do that."
&nbsp
Ambrose's remarks this week also conflict with what she said in the House of Commons months ago.
In June, then-Vancouver Tory MP Wai Young — who was defeated last fall by Defence Minister Harjit Sajjan — rose during question period to lament that there were "even more marijuana stores in Vancouver" than ever before. Young asked for an update on health risks of smoking pot.
In her response, Ambrose pointed to comments from a past president of the Canadian Medical Association that marijuana poses lasting health effects for youth. She suggested only the Tories were looking out for kids.
"While the Liberal leader and the New Democrats support making marijuana use an everyday, normal activity and having it available in storefronts like Starbucks, our government will continue to protect young people from marijuana," she said.
Harper on campaign trail: Pot 'infinitely worse' than tobacco
While pot was not as big of an issue in the last campaign that some predicted, Harper sparked headlines in October when he said marijuana was "infinitely worse" than tobacco.
A radio interview just days before the vote ultimately turned testy when the former Tory leader was repeatedly asked to provide proof to back up that claim. Harper pointed to "science."
Tories also released controversial ads targeting Chinese and Punjabi-speaking voters that alleged Trudeau's Liberals wanted to sell pot sold to children.
Liberals stated in their speech from the throne last month the new government would, as promised, "legalize, regulate and restrict access to marijuana."
Former Toronto police chief Bill Blair, now an MP for Scarborough and parliamentary secretary for the minister of justice, has been tapped to handle the contentious file.
Also on HuffPost