OTTAWA — Justice and safety ministers from across the country have signed off on an approach to reduce violence against indigenous girls and women. At a meeting in Quebec City, they also discussed legalization of marijuana, radicalization of young people, cybersecurity and physician-assisted dying. The national framework for dealing with violence against aboriginal women — two years in the making — will help ensure governments engage closely with indigenous people, said federal Justice Minister Jody Wilson-Raybould. "We had quite a detailed discussion around a collaborative approach to addressing the challenges that indigenous peoples face," she said at the meeting's conclusion Thursday.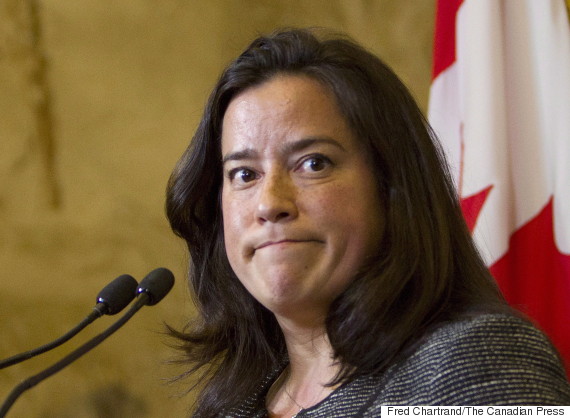 Minister of Justice Jody Wilson-Raybould holds a news conference in Ottawa. (Photo: Fred Chartrand/CP)
Ministers want to work together "to ultimately do our part to end the horrible and unnecessary situation that indigenous women and girls are facing in terms of violence," Wilson-Raybould added. The minister said she and her counterparts also talked about the coming national inquiry into missing and murdered indigenous women.
Bill C-51
Wilson-Raybould and Public Safety Minister Ralph Goodale are responsible for shepherding the new Liberal government's promised review of the controversial omnibus security legislation known as Bill C-51. The federal ministers want to hear from "as many people as we can" on revisiting the bill brought in by the previous government, Wilson-Raybould said.   "We don't have a specific timeline right now, but it is a priority of our government and we will be moving forward with that in collaboration with other ministers." The prime minister has asked Wilson-Raybould to conduct a general review of changes to the criminal justice system and sentencing reforms over the past decade with an eye to ensuring community safety and value for money.
Criminal pardons
Goodale has committed to reviewing Conservative changes that made people wait longer and pay more to obtain a criminal pardon. Scott Bardsley, a spokesman for Goodale, said the minister also plans to revisit the decision to begin calling the pardon a record suspension. Bardsley said Goodale's review of the waiting period, fee and name will consider fairness, proportionality and the role that expunging a criminal record plays in rehabilitation. A record suspension doesn't erase a person's criminal record, but can make it easier to get a job, travel and return to society. Under the Conservative changes, lesser offenders must wait five years instead of three before they can apply for a suspension, while those who have served out a sentence for a more serious offence must wait 10 years instead of five. In addition, the cost of applying quadrupled to $631 from $150. Follow @JimBronskill on Twitter
Also on HuffPost
Canada's Missing Aboriginal Women