A magic "rarer than the unicorns, more fabulous than the phoenix" bolsters Prime Minister Justin Trudeau, according to Rex Murphy.
And to the longtime CBC commentator, that uncommon power is an attribute worth watching, especially when Trudeau's Liberal party breaks a promise.
"If politics were bingo. This would be hitting the jackpot."
On Thursday, Murphy — known for his acerbic tongue — focused on the Trudeau government's apparent political dexterity.
"The Trudeau Liberals are the only party I've ever seen that stands to gain credit and increase its popular approval if only they break very key pledges of the platform they ran and won on," he said.
"If politics were bingo. This would be hitting the jackpot."
Trudeau swept into power in October, unseating Stephen Harper's Conservatives after nearly a decade in government.
Their majority win, he said, was propelled by a groundswell of support behind two key promises: to bring in 25,000 Syrian refugees by year's end and to pull Canadian fighter jets from an international campaign against ISIS.
Broken promises and relief
Shortly after the party's election victory, a Calgary-based developer launched website to track the status of the 167 promise made by the Trudeau Liberals during the course of the election campaign.
As of Friday, three promises have been broken, according to TrudeauMetre.ca.
Their refugee resettlement plan, before its deadline was extended to February, was marked by experts as an ambitious undertaking. And it was a promise the government wasn't able to keep by "a long shot," Murphy said. "And everyone was relieved."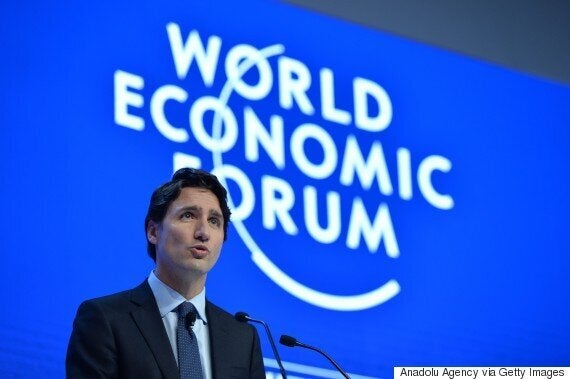 Prime Minister Justin Trudeau delivers a speech during the World Economic Forum, in Davos, Switzerland on Jan. 20, 2016. (Photo: Dursun Aydemir/Anadolu Agency/Getty Images)
Murphy then took stock with the party's pledge to withdraw fighter jets from combat against the so-called Islamic State, finding issues with Trudeau's reluctance to walk back an election promise that "leaves Canada in the international peanut gallery" while allied countries fight the violent group.
"If you won't send a few Canadian jets to fight ISIS. ISIS, which decapitates, kidnaps, rapes, burns prisoners in cages, tortures, bombs and inflicts savagery wherever it goes — then why on Earth do we have fighter jets?" Murphy asked.
"If you wouldn't bomb ISIS, then who would you bomb?"
Murphy finished his piece by reworking a line said by Trudeau on the day he was sworn in as prime minister.
"He is the first prime minister whose credit will rise if he doesn't stick by key promises. How can this be? The answer lies in some deep, deep philosophy," he said.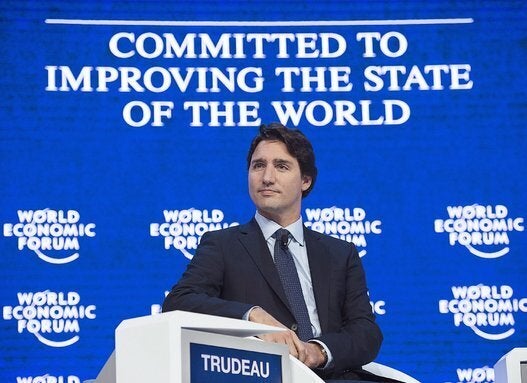 Trudeau Attends World Economic Forum