Four people were killed and two were critically wounded in a shooting in a northern Saskatchewan Dene community Friday. Shots were fired at the La Loche high school building around 1 p.m. Here is a list of some other school shootings in Canada:
Ecole Polytechnique, Montreal:
On Dec. 6, 1989, 25-year-old Marc Lepine shot more than two dozen people, killing 14 women before killing himself.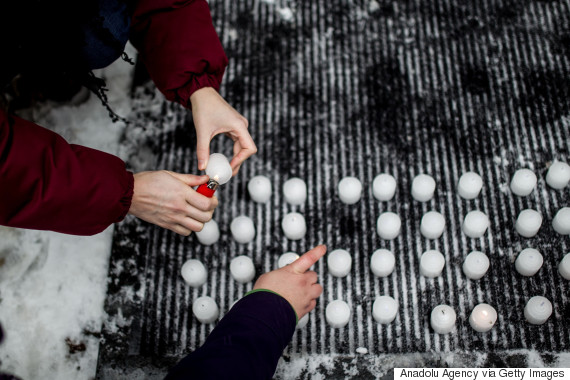 People light candles as they take part in a ceremony to mark the 25th anniversary of the Ecole Polytechnique massacre in Montreal Dec. 6, 2014. (Photo: Getty Images)
____
Dawson College, Westmount, Que:
On Sept. 13, 2006, 18-year-old Anastasia De Sousa was killed and 20 others were hurt when gunman Kimveer Gill, 25, opened fire with a semi-automatic weapon. Gill was killed in a police gunfight. _____
C.W. Jeffreys Collegiate Institute, Toronto:
On May, 23, 2007, 15-year-old Jordan Manners is found in a hallway with single gunshot wound to the chest. He later dies in hospital. Two teens were charged with first-degree-murder and were later acquitted.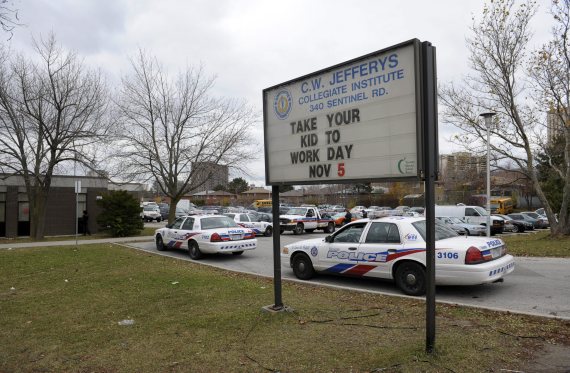 W.C. Jeffreys Collegiate Institute, where Jordan Manners was shot in 2007,was locked down for several hours with some anxious parents waiting outside for the students to be released. (Photo: CP/The Globe and Mail)
_____
Les Racines de vie Montessori, Gatineau, Que.:
On April 5, 2013, two men die during a shooting at the school's daycare. The shooter is identified as Robert Charron. Thirty-eight-year-old Neil Galliou is killed before Charron takes his own life. Charron told staff to take the 53 children to safety before he opened fire.  _____
W.R. Myers High: Taber, Alta.:
 On April 28, 1999, a 14-year-old Grade 9 students shoots three students, killing 17-year-old Jason Lang before he is arrested. _____
Read More On The La Loche Shooting:



Also on HuffPost