TORONTO — Strengthening oil prices boosted North American markets Friday as investors mulled the possibility of monetary stimulus in Europe and Asia.
The Toronto Stock Exchange's S&P/TSX composite index soared 353.72 points to 12,389.58, adding to a big 192-point gain on Thursday. Energy stocks led the charge, climbing 5.64 per cent as the March contract for benchmark crude rose $2.66 or nine per cent to US$32.19 a barrel.
The commodity-sensitive loonie also benefited from the bounce in oil prices, rising 0.64 of a U.S. cent to 70.67 cents US.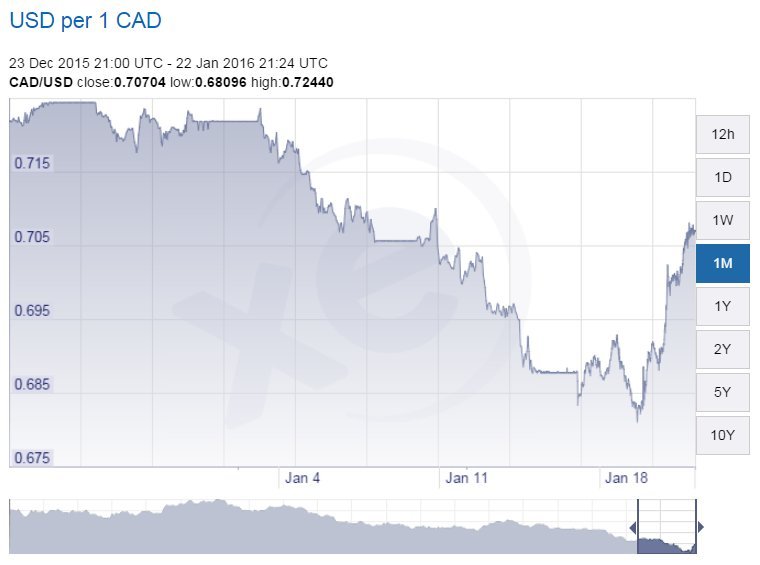 The Canadian dollar finally saw gains this week, after a relentless weeks-long slide. (Chart: xe.com)
The gains on the TSX were fairly widespread, with only two segments posting losses. Base metals stocks declined by 1.19 per cent, while metals and mining stocks slipped 0.36 per cent.
Steve Belisle, senior portfolio manager at Manulife Asset Management, said it's typical for companies beyond the energy sector to benefit from a boost in crude prices.
"As oil has been going down and down, some stocks were being sold for no reason and are now very cheap,'' Belisle said. :So it's normal that when oil recovers you see the whole market being lifted up like this.''
In New York, the Dow Jones industrial average was up 210.83 points at 16,093.51, while the S&P 500 advanced 37.91 points to 1,906.90 and the Nasdaq rose 119.12 points to 4,591.18.
The boost on North American markets followed big rallies Friday in Europe and Asia amid expectations central banks are poised to inject more stimulus into flagging economies.
Although he is skeptical that the rally will persist in the immediate term, Belisle said his outlook for the U.S. stock market is positive for the year overall.
"We think in the medium term you'll see a re-acceleration in the U.S. economy and that will drive a recovery in the stock market,'' Belisle said.
Several pieces of data released Friday pointed to strength in the U.S. economy, including a preliminary reading of the January manufacturing purchasing managers' index, which came in above expectations. Meanwhile, sales of existing homes south of the border jumped 14.7 per cent in December.
"The way things were going, the market was almost pricing in a recession in the U.S., and we really don't think that's going to happen,'' Belisle said. "As the economic data confirms that there's no recession, I think the market at some point will turn.''