The court released an emotional 911 call from the July 2013 killing of Sammy Yatim this week — as the jury announced Saturday that it would need at least another day for deliberations in the second-degree murder and attempted murder charges facing Const. James Forcillo. 
The jury began deliberating around 11 a.m. Wednesday, trying to analyze what happened a few minutes after midnight on July 27, 2013, when Forcillo fatally shot Yatim, who was alone in a streetcar at Grace Street and Dundas Street West.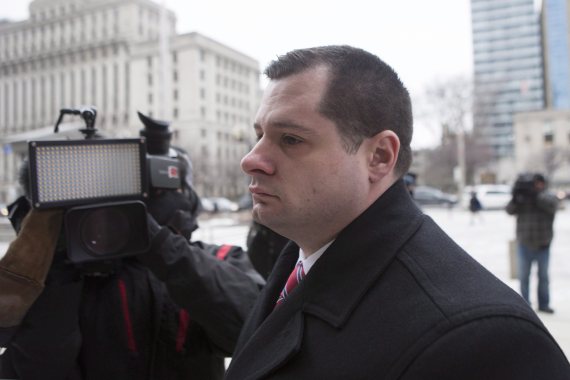 Toronto police Const. James Forcillo is trailed by the media as he arrives at court in Toronto, on Jan. 20, 2016. (CP)
The court has already heard that when Yatim climbed on to the streetcar he had been high on ecstasy. He exposed himself to other passengers and then took out a small knife, which led to a mass exodus.
911 call
The court recently released a 911 call made by one of those passengers after the jury began deliberating.
In it, a young woman can hardly speak over her sobbing as she tries to tell a 911 operator where she is and provide a description of Yatim.
"I noticed he had a knife so I started to, like, walk towards the door and then he pushed me back and he held the knife up to me," the passenger said. "I held up my purse to try and stop him and we just ran."
The operator then tells the woman to stay on the line until police officers arrive.
'There's cops everywhere'
"Oh, my god," the woman screams on the line, sobbing harder.  She becomes incoherent, screaming and crying at the same time.
"There's cops everywhere — they all came out. They approached the streetcar and I just heard a lot of shots. There was probably like five or six shots."
Video and audio evidence played during the trial have shown that Forcillo arrived on the scene, yelled repeatedly at Yatim to drop the knife, and then, 50 seconds later, fired nine times in two separate volleys.
Deliberations continue Sunday
Eight of those bullets hit Yatim, according to medical testimony.
Crown prosecutors told the jury that the Toronto police officer did not react in a way that was reasonable, nor were the shots necessary.
The defence team, however, maintains that Forcillo shot the teen in self-defence.
The jury will reconvene at 10 a.m. Sunday.