"They were my best friends."
The grandfather of the two teen brothers killed in Friday's mass shooting in La Loche Sask. said he can't believe they're dead.
"Never again, I guess," he told the Saskatoon Star Phoenix, calling the brothers his "two babies."
Drayden Fontaine, 13, and Dayne Fontaine, 17, were killed in a shooting at a home on the 300 block of Dene Crescent. Marie Janvier, 21, and Adam Wood, 35, two young educators, were killed at La Loche Community School, where seven others were also injured.
Hundreds came together in the small northern community Friday night to mourn and remember the victims of a shooting that left four dead and seven others wounded in the small Dene community.
Memorial items and candles were left outside La Loche Community School by mourners. Janvier and Wood were educators, just beginning their teaching careers, and the Fontaine brothers were both students at the junior and senior high school.
"[Friday] was a hard day, we have lost family members, friends. It affects all of us, not just because I work here, but as a community. Everybody knows each other," Lyle Herman, a substitute teacher at the school, told Global News. Herman said his cousin was one of the victims.
People took to social media to express their condolences for the victims and their families, some using the hashtag "#PrayersForLaLoche."
Sending all the ❤️❤️❤️ in the world! #PrayersForLaLoche pic.twitter.com/tcyydmpAnJ

— Kaylyn Kyle (@KaylynKyle) January 23, 2016
Condolences to #LaLoche. pic.twitter.com/8jKzl0D7rp

— NoraC (@NoraCserny) January 23, 2016
Elected officials, including Prime Minister Justin Trudeau, Premier Brad Wall and Cam Broten, Saskatchewan's opposition leader, also expressed their sympathy.
Our country's heart is breaking. We grieve with - and stand with - the people of La Loche today. Full statement: https://t.co/tWQAaewlX1

— Justin Trudeau (@JustinTrudeau) January 23, 2016
Words cannot express my shock and sorrow at the horrific events today in La Loche. My thoughts and prayers are with all...

Posted by Brad Wall on Friday, 22 January 2016
Former mayor Georgina Jolibois, now an NDP MP, released a statement Saturday:
As the former mayor of La Loche, I am shocked and saddened by the shooting in the Dene Building at the La Loche Community School in my riding. The shooting hits close to home for me as my family members attend the school.

The community of La Loche is strong and closely knit. We have faced adversity in the past and we will persevere.

My thoughts and prayers are with all students, staff and families affected as we begin on the path of healing as a community.
The families of the victims expressed shock and sadness in response to Friday's events.
Kaleisha Janvier, Marie Janvier's cousin, said she saw Marie just before the shooting.
"She was so happy. I saw her smile. I walked past her and said 'hi'. That was the last time," she told CBC News, in tears.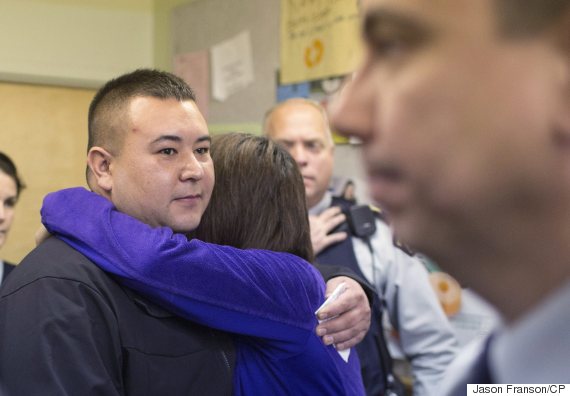 Mayor Kevin Janvier and MLA Georgina Jolibois hug after speaking with media about the ongoing investigation of the La Loche shooting. (Photo: Jason Franson/CP)
"Adam had just begun his teaching career in La Loche last September and was enjoying his time,'' wrote Wood's Ontario family, in a statement. "He was always up for a good challenge and lived each day joyously.''
Sharon and I were shocked and saddened to learn about the tragic events in #LaLoche, SK. Our thoughts are with the community tonight.

— David Johnston (@GGDavidJohnston) January 23, 2016
Our thoughts & hearts go out to the families, Chief Clark & Clearwater River Dene Nation community as they begin their grieving & healing

— Carolyn Bennett (@Carolyn_Bennett) January 23, 2016
Sunday morning, about 250 community members attended mass with Archbishop Murray Chatlain, who says it was meant to give the community words of encouragement.
He wanted to remind La Loche residents the village is made up of "tremendously generous people.''
#LaLoche coming together for Sunday mass to begin healing process after tragic shooting. @CBCAlerts @CBCSask pic.twitter.com/FURjqQhW8Z

— Devin Heroux (@Devin_Heroux) January 24, 2016
"La Loche is good people. You have good hearts." - Chatlain pic.twitter.com/r4l9ohG2Ii

— Jason Warick (@WarickSP) January 24, 2016
Archbishop Chatlain said he has met with the victims' family as well as the family of a 17-year-old suspect who has been arrested and charged, but RCMP said he cannot be named under the Youth Criminal Justice Act.
The teen is charged with four counts of first-degree murder, seven counts of attempted murder and one count unauthorized possession of a firearm.
RCMP said the investigation is ongoing.
Read More On The La Loche Shooting:



With files from The Canadian Press
Like Us On Facebook

Follow Us On Twitter

Also on HuffPost